FAST FACTS: Moose vs. Laval – March 30
By: Manitoba Moose Staff | Published: March 30th 2021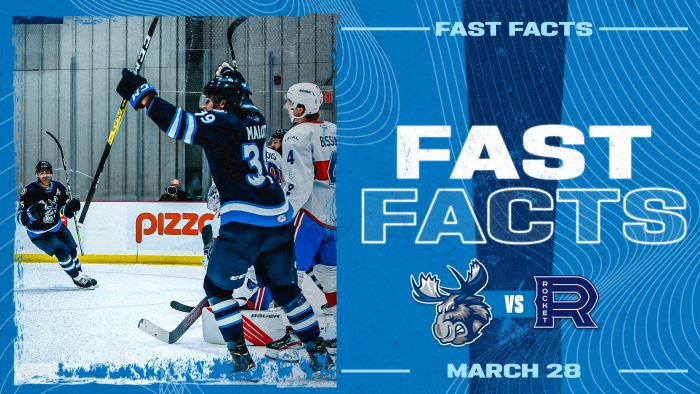 After a disappointing 5-3 loss to Laval on Sunday, the Moose look to right the ship this afternoon when the teams close out their season series. It's the fourth consecutive meeting between the clubs, and eighth overall. Manitoba is 3-4-0-0 against Laval this season, but can even the set with a victory. Tune in to the action from Bell MTS Iceplex on cjob.com/sports and MooseHockey.com/LISTENLIVE or watch with a subscription to AHLTV. The pre-game show gets rolling at 3:45 p.m. CT with puck drop at 4 p.m. CT.
10's Across the Board
During Sunday's contest against Laval, Jeff Malott (8G, 2A) and David Gustafsson (2G, 8A) reached the 10-point mark on the 2020-21 season. Jeff Malott recorded the primary assist on Leon Gawanke's third period tally that carried the forward to 10 points. Malott reached this feat in 17 games. Gustafsson posted two assists during the contest (one on Kristian Vesalainen's goal and added another on Kristian Reichel's tally) that improved his point total to 10 points in nine games with the Moose this season.
Season Firsts
During Sunday's matchup against the Rocket, Kristian Vesalainen and Leon Gawanke recorded their first goal of the 2020-21 season. Vesalainen was re-assigned to the Moose from the Winnipeg Jets Taxi Squad on March 4/21, and has recorded four points (1G, 3A) in five games with Manitoba. Gawanke has posted six points (1G, 5A) in 15 games for the Moose this season. The defenceman was sidelined for four games due to injury.
Power Play Regulars
Kristian Vesalainen's tally during Sunday's matchup was recorded on a power play opportunity. The winger has a history of success on a Moose man-advantage. During the 2019-20 season, the Helsinki, Finland product was tied for the lead on the Moose with six goals scored on a power play. Cole Perfetti made a sleek pass and set up Vesalainen for his goal, recording the primary assist on the tally. Perfetti has posted six assists during the 2020-21 season, all of which have been recorded on a man advantage.
Double Trouble
David Gustafsson posted two assists during Manitoba's game against Laval on Sunday. With this feat, the centreman recorded his second multi-assist contest of the 2020-21 season and his fourth multi-point outing of the campaign. The Tingsryd, Sweden native is producing at more than a point-per-game rate having marked 10 points (2G, 8A) in nine games for the Moose this season. Gustafsson has found success against the Rocket during the 2020-21 campaign with four of his 10 points coming against the club. On March 23 against Laval, Gustafsson set a new AHL career high with eight points.