Fast Facts: Moose vs. Chicago – March 5
By: Manitoba Moose Staff | Published: March 5th 2023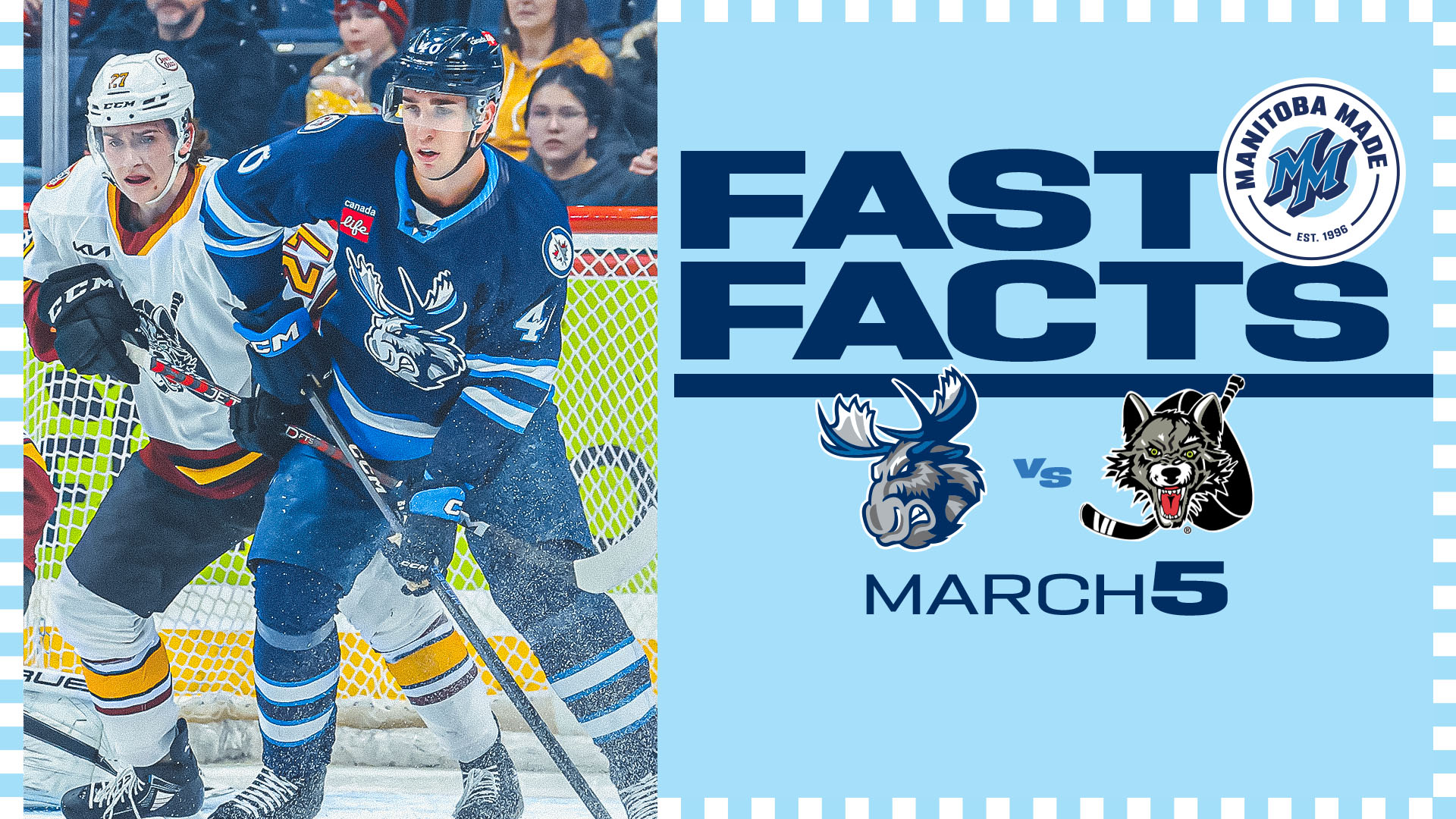 The Manitoba Moose battle for a return to the win column after having their nine-game point streak snapped Friday night by the Chicago Wolves. The visitors got 39 saves and a goal from netminder Pyotr Kochetkov on the way to a 4-1 win to halt Manitoba's three-game winning streak.
It's Follow Your Dreams Day at Canada Life Centre. The Moose will again seek to share spaces, share stories, and foster relationships as part of their WASAC and Follow Your Dreams initiatives by hosting youth from northern and remote Indigenous communities. On the ice, the Moose sport their special indigenized jerseys while on the concourse, fans will have the chance to learn about Indigenous art from local artists. Tickets for today's 2 p.m. game are available at MooseHockey.com/TICKETS.
For those unable to attend there are multiple ways to take in today's game. A special free livestream with play-by-play commentary in Plains Cree is available at MooseHockey.com/fyd-livestream. Fans can also watch the english broadcast for free with the AHLTV Game of the Week, or listen on 680 CJOB.
Mighty Maier
Cole Maier recorded the lone Moose goal on Friday evening. The forward has tallies in consecutive contests for the second time this season. The Pequannock, N.J. product has recorded 22 points (12G, 10A) over 36 games. The 12 goals represent the second time in the pivot's professional career breaking the double-digits. Maier, who re-signed a two-year contract with Manitoba in 2021, has tallied 89 points (45G, 44A) in 197 career AHL games, all with the Moose. Maier has also notched at least one power play, shorthanded and game-winning tally in consecutive seasons.
Manitoba vs. Central Division
The Moose play 48 of their 72 games against fellow Central Division opponents. Heading into this afternoon's contest, Manitoba has played 34 of those games and tallied a record of 21-7-3-3 in that span for a .705 points percentage. In 2021-22, at the 34 game-mark against Central opponents, the Moose found themselves with a record of 22-9-2-1. Manitoba is 2-2-0-0 against the Wolves this season, making Chicago the only Central Division team the Moose have a head-to-head points percentage lower than .625. Manitoba has scored 114 goals against Central Division opposition, while surrendering 94 goals.
Career-High Campaign
Kristian Reichel notched a third period assist on Friday night. The Litvinov, Czechia product is in the midst of a career-best season and has registered 21 points (9G, 12A) through 48 games. Reichel has achieved new career-high numbers in both assists and points and has broken the 20-point barrier for the first time in his professional career. The forward, who recently suited up in his 200th AHL contest, paces the Moose with two shorthanded tallies and leads the antlered ones with three points (2G, 1A) when the Moose are on the penalty kill. Reichel has 73 points (34G, 39A) in 201 AHL contests.
Putting Up PIMs
The Moose and Wolves combined for 87 penalty minutes in Friday's game, with 73 of those penalty minutes assessed in the final six minutes. The Moose recorded 35 of those penalty minutes, including one major and two misconducts. The Wolves posted 52 penalty minutes, including two majors and three misconducts. Evan Polei picked up 17 penalty minutes for the Moose, while Pyotr Kochetkov racked 22 minutes for the Wolves. The 35 penalty minutes tied for Manitoba's second-most assessed in a single game this season. Chicago's 52 minutes set a new single-game season high.
Who's Trending?
Declan Chisholm tallied a power play assist in Friday night's loss. The defenceman has put together three points (1G, 2A) over his past two contests. The Bowmanville, Ont. product has tallied 38 points (5G, 33A) in 51 games. Of those 33 assists, 17 have come by way of the power play, which ranks first on the Moose.