Fast Facts: Moose at Belleville – March 6
By: Manitoba Moose Staff | Published: March 6th 2021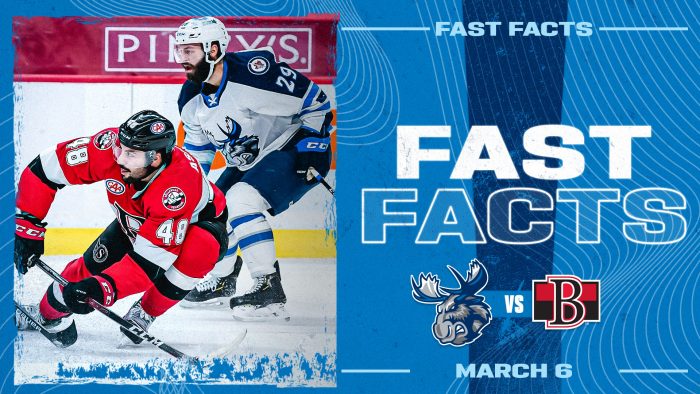 The Moose wrap up an eight-game road swing this afternoon against the Belleville Senators. Manitoba grabbed a 3-1 win last night at Canadian Tire Centre in Ottawa. With the win the Moose have a chance to finish the trip at the .500 mark. Tune into the matinee affair on cjob.com/sports, MooseHockey.com/LISTENLIVE or watch with a subscription to AHLTV.
Century Mark
Moose forward C.J. Suess played his 100th AHL game last night against the Senators. The Forest Lake, Minn. product tallied a goal and an assist in the contest. Suess made his AHL debut on March 28/18 and has played all of his games with the Moose. He is one of four players on the current Moose roster to play 100 games or more for the team. The Winnipeg Jets' 2014 fifth round pick has 46 points (25G, 21A) in his 100 AHL outings.
Good for a Couple
Cole Maier tallied his second and third goals of the season in last night's Moose win. It was the second time in his AHL career Maier notched a pair of goals in a single game. The last occurrence was on Nov. 17/19 against the San Antonio Rampage. Last night's game was the third time in Maier's career he has posted multiple points in a contest. The Pequannock, N.J. native is tied for second on the Moose with three goals in six games.
All Good Things…
Yesterday's matchup saw Nathan Todd's point streak come to an end. The forward posted points in nine consecutive games, recording 11 points (4G, 7A) along the way. The run is currently the longest streak in the AHL this season and fell just three games shy of matching the Moose franchise record of 12 games (Aaron Gagnon and Sergei Shirokov). Todd's seven-game assist streak is also the longest in the AHL this season. The Ottawa, Ont. product leads the Moose and is tied for fifth in the league in points.
Well Traveled
Today's game marks the end of an eight-game road swing for the Moose. The club opened the trip with a pair of wins against the Laval Rocket. The victories were followed by four losses to the Rocket and Toronto Marlies. Last night's win gives Manitoba the opportunity to come off the trip with a 4-4-0-0 record from the swing. Nathan Todd leads the Moose with eight points (2G, 6A) in their seven road games this season.