Preview: Moose vs. Wild – March 8
By: Daniel Fink | Published: March 8th 2020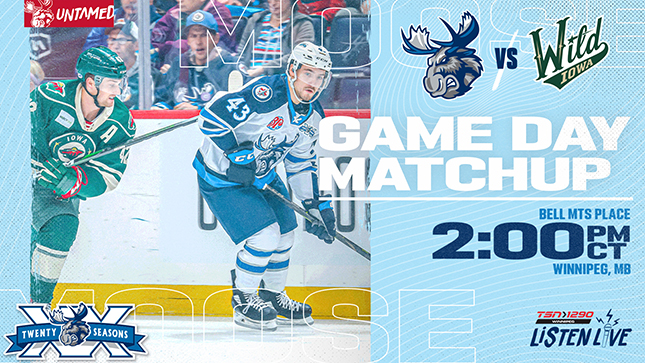 Moose vs. Iowa – Bell MTS Place – 2 p.m. CT
Broadcast: TSN 1290, moosehockey.com/listenlive, AHLTV
Tickets: moosehockey.com/tickets
The Moose and Wild get right back to it this afternoon following a thrilling game last night that saw Manitoba come away with a 4-3 shootout win. It's Logan Stanley Bobblehead day at Bell MTS Place. The first 3,000 fans through the doors will receive a bobblehead. Don't forget we "sprung forward" this morning, so make sure your running on time for today's game.
Last night's tilt saw the Moose pull ahead three times, only to have Iowa tie things up in under four minutes. Kristian Reichel started things off midway through the first, only to have Luke Johnson fire back with a power play goal 80 seconds later. Jimmy Oligny made it 2-1, followed quickly by Cody McLeod's tying goal 88 seconds later. Cole Maier gave the Moose a third period lead with seven minutes left, but Iowa scored a second power play tally courtesy of Kyle Rau to tie the game again. Overtime solved nothing as Eric Comrie made four saves and Seth Griffith rang a shot off the post. JC Lipon scored in the third round of the shootout, and Comrie made certain the Wild didn't come back again with a clean sheet in the skills competition.
The win was Manitoba's third straight and fourth in the last six games. The Moose traveled past 60 minutes in all of those wins and have played into overtime in five of the last six contests. The guys in antlers hold the AHL's best record in extra time, winning nine of their 10 overtime games. The Moose are 6-1 in the three-on-three segment and a perfect 3-0 in the shootout. JC Lipon is two-for-two in the shootout this season, with both tallies going in the books as the winner. Meanwhile, Moose goaltenders have only allowed one goal on nine attempts faced in the shootout.
"It almost feels like any time we go to overtime it's always on our side, you know?" said David Gustafsson after the win. "I think we are really strong in the overtime and the shootout, so we often try to battle the game out."
The under-22 young guns were at it again last night for the Moose. The line of Gustafsson, Reichel and Kristian Vesalainen generated two of Manitoba's three regulation tallies and finished a plus-two on the game. Vesalainen set up Reichel's opening tally, while Gustafsson started the play for Jimmy Oligny's goal. Since coming together three games ago, the trio has combined for eight points (3G, 5A) and are a collective plus-nine rating. We can't leave out defenceman Leon Gawanke either as the rookie has four points (2G, 2A) in the last three games.
"I feel like the chemistry between (Reichel), (Gustafsson) and Vesalainen is pretty good," commented Moose head coach Pascal Vincent. "Those are three young guys who are moving the right way and supporting each other, but they're playing fast."
Today's game marks the end of a four-game home stand for the Moose. They have just six home games remaining on the schedule. Those all come during one stint at Bell MTS Place from March 26-April 5. The Moose hold an 18-13-0 mark on home ice this season, including victories in three straight and four of their last five. Manitoba actually opened the season on a four-game home losing skid, but turned it around and has an 18-9-0 mark since then. The Moose power play has a 19.1 per cent success rate at home, 2.3 per cent above its overall average. The penalty kill features similar numbers, as the Moose improve their average by 1.5 percentage points to 82.0 per cent at home.
Iowa forward Sam Anas continues to be a thorn in the side of the Moose. Anas tallied two assists for the Wild, including setting up Kyle Rau's third period goal. The pair of helpers let him keep pace with Reid Boucher for the AHL's scoring crown. Anas also leads the league with 48 assists in 61 games. The Potomac, Md. native has eight points (4G, 4A) in five games against Manitoba this season.
Tickets for the matchup are available at MooseHockey.com/TICKETS or through the Moose Mobile App. Coverage of this afternoon's game gets going at 1:45 p.m. on TSN 1290, moosehockey.com/listenlive and AHLTV.