Fast Facts: Moose at Toronto – May 9
By: Manitoba Moose Staff | Published: May 9th 2021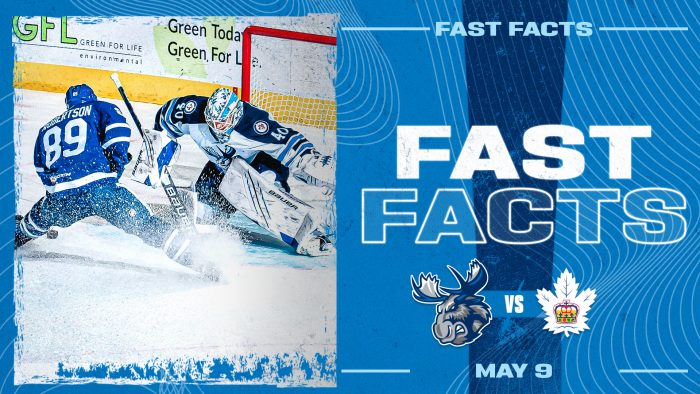 The Moose and Marlies decide who wins the season series in their ninth and final meeting of the season. The Moose tied the season set at four wins per side by extending their point streak to 10 consecutive games (9-0-0-1) on Saturday. Listen to the game on cjob.com/sports and MooseHockey.com/LISTENLIVE. Watch live on TSN2 or with a subscription to AHLTV. Puck drop is scheduled for 2 p.m. CT.
Near-Perfect 10
With their shootout win yesterday afternoon, the Moose have recorded a point in 10 consecutive games. Manitoba hasn't lost in regulation in over a month with their previous pointless game coming April 7 against Belleville. Since then the Moose are 9-0-0-1. It's the longest active point streak in the AHL and the Moose are the only team in the league with nine wins in their past 10 outings. It's the first time the Moose have achieved a double-digit point streak since the 2017-18 season. The skaters in antlers recorded points in a franchise-record 16-straight contests (15-0-0-1) running Nov. 15/17 through Dec. 22/17.
Bourque Buries
Defenceman Trent Bourque scored his first AHL goal in yesterday's Moose win. Bourque led off the scoring just 38 seconds into the opening period. The Burlington, Ont. product checked off the milestone in the 19th game and 21st shot of his career. Bourque has four points (1G, 3A) in 14 games this season with the Moose. With Ty Pelton-Byce and Dylan Samberg also scoring their first AHL goals this week, the Moose have seen 14 players record their first AHL goals this season.
One Good Point Deserves Another
Speaking of Ty Pelton-Byce, the forward tallied his first AHL assist in Saturday's contest. The helper came on C.J. Suess' tying goal midway through the third period. Pelton-Byce's first assist comes one game after the former Wisconson Badger tallied his first AHL goal. Pelton-Byce now has two points (1G, 1A) in six games with the Moose this season. In his final season at Wisconson, Pelton-Byce notched 31 points (12G, 19A) in 24 games. The Madison, Wis. product is currently playing on an amateur tryout with Manitoba, but is signed to a one-year contract beginning in the 2021-22 season.
Kovacevic in Kontrol
Defenceman Johnny Kovacevic has been a force for the Moose over the past 10 games. Throughout Manitoba's ongoing point streak, the defenceman has 11 points (2G, 9A) and holds a plus-14 rating. Since April 8, Kovacevic ranks third among AHL defenders in points and assists. His plus-14 rating leads the entire league, regardless of position. With his two helpers in yesterday's victory, Kovacevic set a new career-high in points. The Grimsby, Ont. product has 14 points (2G, 12A) in 29 games this season.
Who's Trending?
Cole Perfetti scored his ninth goal of the season in highlight reel fashion yesterday afternoon. Perfetti is now tied for second on the Moose in goals. Tallying his nine goals on 63 shots, Perfetti holds a 14.3% shooting percentage. That ranks third among Moose forwards with over 40 shots on goal this season.