Preview: Warning Incoming Game
By: Colin Peterson | Published: November 3rd 2018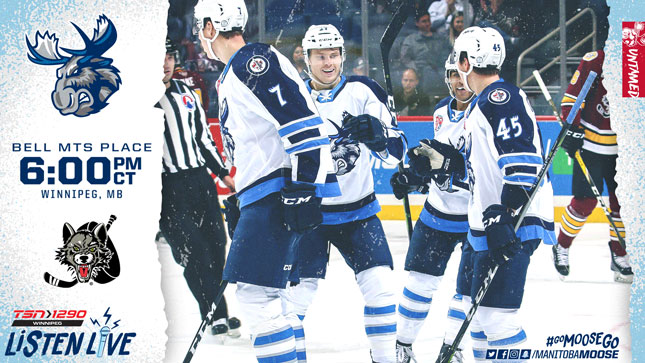 Nov. 3, 2018 vs CHICAGO WOLVES
Ready player one! The Manitoba Moose (6-4-0-0) take on the Chicago Wolves (6-3-0-1) at 6 p.m. CT tonight. It's Video Game Night at Bell MTS Place and the Share Warmth Campaign game presented by Red River Co-op.
Fans attending the game have a chance to win a Moose-branded Playstation 4 console by donating new or gently used winter clothing to the Share the Warmth winter clothing drive. They'll also get to enjoy and featuring an interactive gaming lounge and VR experience. To get your tickets, head to moosehockey.com/tickets/.
If tonight's game is anything like last night's battle, fans are in for a treat. The Moose collected their third straight win at home, and third overall, by a score of 5-4. Goalie Mikhail Berdin has won all three of his AHL starts and has a .941 save percentage and a 1.92 GAA goals-against average.
Seth Griffith dominated the scoresheet fifth four points (1G, 3A) and rookie defenceman Luke Green scored his first AHL goal on his first AHL multi-point night. Chicago's Daniel Carr (1G, 1A), Brandon Pirri (2A), and Curtis McKenzie (2A) all recorded two-point nights as well in the high-scoring match.
Moose Head Coach Pascal Vincent was asked after the game what positives the team took from such a wild night.
"I thought we responded well after the first period. The guys played a good game… We have a very young lineup. And for us to respond the way we did, and to win the game, find a way to win the game, it tells you a lot about our team."
A big reason for the success of the Moose at home has been the line of Griffith, Mason Appleton and C.J. Suess. In the last three games at Bell MTS Place, they have combined for
18 points (9G, 9A). Griffith was asked after Friday's game what he likes about his linemates.
"I just think they're smart players. C.J., you know what he's going to bring every night. He's just a smart player that comes to work every night. Mason has obviously got a good shot, sees the ice well, and he skates well. It's a good combination with us three."
Don't forget to go to a href="https://moosehockey.com/tickets/">moosehockey.com/tickets/ for tickets. If you can't make it out for Video Game Night, join us on Moose App, moosehockey.com/listenlive, or streamed live on AHLTV.
Tomorrow, Sunday Nov 4th, is the annual Moose at the Zoo event at the Assiniboine Park Zoo's Journey to Churchill exhibit. Families are invited to come meet their favourite Moose players and get some autographs from 1:30 until 3 p.m. CT.