Preview: Old Story, New Chapter
By: Colin Peterson | Published: November 8th 2018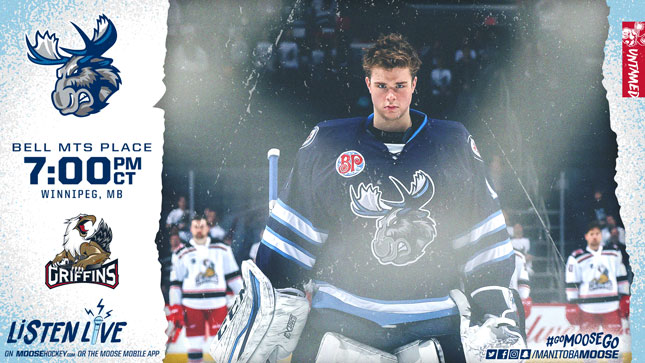 Nov. 8, 2018 vs GRAND RAPIDS GRIFFINS
The Manitoba Moose (6-5-0-0) will face the Grand Rapids Griffins (5-5-0-1) tonight at Bell MTS Place. The 7:00 p.m. CT game will be the first meeting between the two since last season's Central Division Semi-Final in the Calder Cup Playoffs.
You can get tickets at moosehockey.com/tickets/ but fans who are unable to attend can tune in on the Moose App, moosehockey.com/listenlive, or stream the game live on AHLTV.
Both teams in tonight's game started slow this season, but have improved rapidly. The Moose have won five of their last seven games, while Grand Rapids are 4-2-0-1 in their last seven. Assistant Coach Eric Dubois says the improved record comes with the team from the team growing together.
"It took us a good two weeks to get some chemistry on the lines. Maybe it was easier on defence because it's pretty much the same defensive group as last year, but up front, offensively there [wasn't] much going on. So it probably took us two weekends to develop some chemistry."
Players for Manitoba to beware of this weekend are Turner Elson and Axel Holmstrom who had identical six-point stat lines in the eight 2017-18 matchups (2G, 4A). Mason Appleton enjoyed some success against the Griffins in his rookie season, putting up five points (1G, 4A) of his own.
This weekend's series could be decided by location, the Moose are 4-2-0-0 at Bell MTS Place this season, while the Griffins are 2-4-0-0 on the road. Goaltender Eric Comrie has been stellar downtown, winning all three of his home starts with a 1.00 goals against average, and a .970 save percentage. Comrie has fond memories of the spring's post-season series against Grand Rapids.
"Playing them in the playoffs last year was pretty exciting, and I'm just excited to go out there against them again and hopefully get two points in both games."
Defenceman Cameron Schilling, who scored the series-clinching goal, remember the games well, but is ready to move on.
"It was definitely a fun game to be a part of. Our backs were up against the wall, we had some injuries, some call ups, and stuff like that. It was definitely a character win being able to go into their building when they were the defending champs, and being able to take Game 5. It was definitely a memory I'll never forget, but at the same time you kind of have to move on."
These two teams will battle again on Saturday, Nov 8th, at 6 p.m. CT. That game is the annual Retro Jersey Night, with the Moose sporting jerseys from the 2004-2010 era. Select jerseys will be auctioned on the concourse during the contest, with the rest of the jerseys to follow online. Proceeds from the auction will support Hockey Manitoba.
Saturday night will also include a special Retro Combo at participating Bell MTS Place concessions. The combo features a jumbo hot dog, a soft drink and bag of chips for $8 (plus tax). For tickets, go to moosehockey.com/tickets/.