Fast Facts: Moose at Milwaukee – Nov. 22
By: Manitoba Moose Staff | Published: November 22nd 2022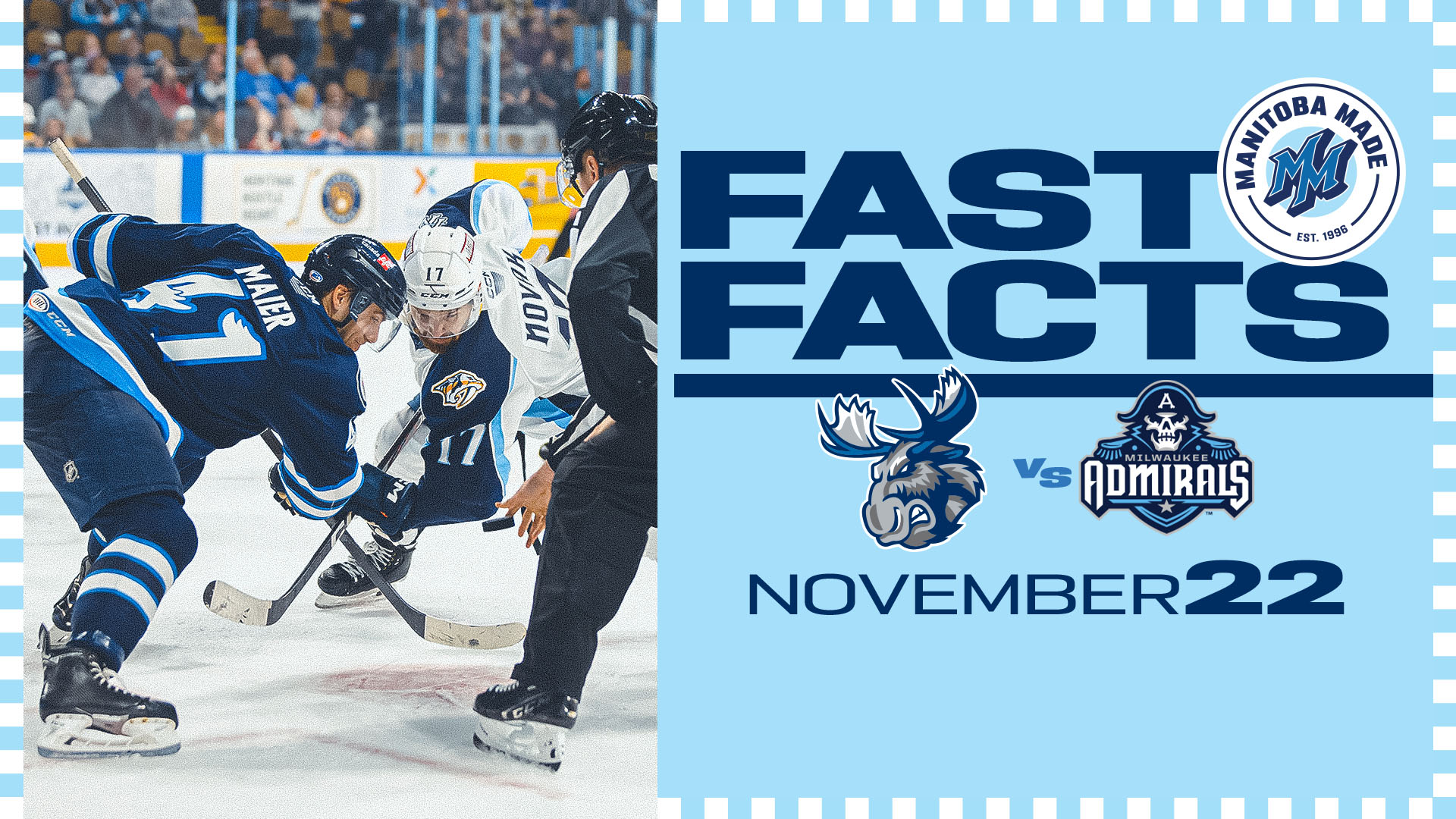 The Manitoba Moose hit the mid-point of their five-game road swing tonight in Milwaukee. Manitoba has points in all five road games the team has played this season, posting a 4-0-1-0 record. The Admirals sit atop the Central Division with a 10-4-0-0
Weeknight Contest
Manitoba's game versus Milwaukee on Tuesday, Nov. 22 represents the first time this season that the Moose will be playing in a contest that is on a day that isn't a Friday, Saturday or Sunday. The weekday contest is the first of 22 games the Moose play on weeknights this season. Dating back to this past season, Mikey Eyssimont, currently on recall with Winnipeg, led the Moose with  five points (5A) recorded on Tuesday, while Jeff Malott placed second with three (2G, 1A) and led the Moose in goals. Three different netminders played on Tuesday in 2021-22 with Arvid Holm coming up with a 1-1-0 record, 2.46 goals-against average and a .906 save percentage.
Shootout  Winner
Isaac Johnson, who was recalled by the Moose from the ECHL's Newfoundland Growlers last week. The forward made his AHL season debut and scored the shootout-winning goal in Manitoba's 4-3 contest against Texas on Saturday. Prior to his recall, the forward had registered 14 points (6G, 8A) in 11 games with the Growlers to go along with a plus-11 rating. Johnson was also named the ECHL Player of the Week for Oct. 24-30 after he tallied five points (2G, 3A) in two contests. Johnson got his first taste of AHL action last season with Manitoba and put together four points (1G, 3A) in 11 contests.
The Puck Stops Here
Oskari Salminen was called upon to make 39 stops during Manitoba's victory in Texas on Saturday night. The netminder further denied four of the five Texas Stars skaters in the shootout. Salminen leads the Moose with five victories in his AHL rookie season and has made over 30 saves in three of those wins. The five victories put him third amongst AHL rookie netminders and his .913 save percentage sits him fifth among the AHL's first-year goaltenders. The Kotka, Finland product owns a 5-2-0 record to go along with a 2.47 goals-against average this season. He also has a shutout under his belt, which he earned, along with his first career AHL win, Oct. 16/22 versus Rockford.
Czech It Out
Kristian Reichel has recorded assists in three straight contests for the Moose. The forward, who is currently in the midst of his fifth campaign with Manitoba, has registered six points (2G, 4A) in 12 contests during the 2022-23 season. Reichel's three-game point streak represents his longest mark of the season. The forward's career-long streak was a four-game sample from the 2021-22 season that saw Reichel record five points (2G, 3A) from Nov. 13/21 to Nov. 21/21. The Litvinov, Czechia product has tallied 58 points (27G, 31A) in 165 career AHL games, all with Manitoba.
Who's Trending?
Greg Meireles scored a goal in Manitoba's shootout victory in Texas on Saturday. The tally, which occurred 18 seconds into the game, is the fastest Manitoba marker scored so far this season. Meireles recorded 27 points (5G, 22A) with the Moose last season and was named the organization's Rookie of the Year for his efforts.