Preview: The Wild Visit Winnipeg
By: Colin Peterson | Published: November 23rd 2018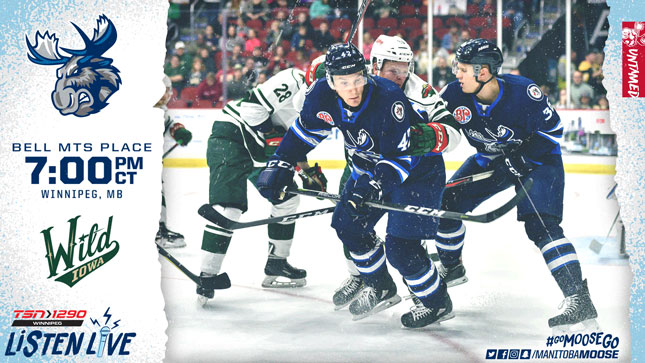 Nov. 23, 2018 vs IOWA WILD
The Manitoba Moose (8-8-1-0) are back at Bell MTS Place, for a weekend set against the Iowa Wild (11-4-1-1) tonight at 7 p.m. CT. For tickets, head to moosehockey.com/tickets.
The Moose are coming off a four-game road trip, on which they went 1-2-1-0. The last two games, an overtime loss in Grand Rapids and an equally tight game in Chicago, showed the team isn't far off their Central Division opponents.
On that road trip JC Lipon and Logan Shaw did some damage offensively. Lipon has five points (2G, 3A) in his last three games and seven in his last six (2G, 5A). Shaw, meanwhile, only joined the Moose four games ago, but made a strong impression with five point in those contests (2G, 3A).
Forward Ryan White talked about the team's steady improvement and the next step for his club.
"Just to be in those positions to have a chance to compete in the games and have a chance to get some points is big. We're just not at that next level yet of finding ways to win, but we're getting there. We came back, saw some video, some areas we could clean up and be better at. We're going to go out there [tonight] and do it all over again."
White spent part of last season in Iowa with the Wild and explained that the team has been building to their early success in 2018-19.
"Good group of guys around the rink there, seems like they got a lot of them back. It's kind of that thing in the American League where if you get the same group back again, you're a little ahead of some other teams. It seems like they're playing pretty good hockey right now, so it'll be a good test for us."
Maybe the player most excited to be back at Bell MTS Place will be Eric Comrie. In five home starts this season, the Moose goaltender is rocking a .944 save percentage, a 2.01 goals against average, and a record of 4-1-0-0. A member of the team since they returned to Winnipeg, Comrie feels at ease in the building.
"I just feel comfortable. I feel comfortable with the crowd. I know my routine here, it's pretty set in stone. I've been doing it for three years now, this is my fourth year so I'm getting kind of used to it. And the guys are playing really well at home in front of me."
If you can't make it to the game tonight, you can tune in on the Moose App, moosehockey.com/listenlive, or stream it live on AHLTV. The game will also be joined in progress by TSN 1290 at the end of their coverage of the Jets game in Minnesota. Don't forget that Saturday's rematch is the team's Hockey Fights Cancer game in support of Camp Quality at 3 p.m. CT.