Preview: Reunited with the Gulls
By: Colin Peterson | Published: November 28th 2018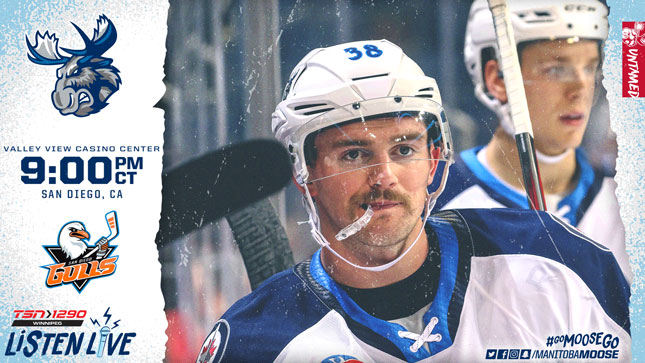 Nov. 28, 2018 at SAN DIEGO GULLS
The Manitoba Moose (9-9-1-0) are back on the road, starting off a six game swing through California tonight against the San Diego Gulls (7-6-1-1). You can tune in for the 9 p.m. CT puck drop on TSN 1290, the Moose App, moosehockey.com/listenlive, or streamed live on AHLTV.
A lot has changed since the last time these two teams met. Back on Nov. 12/16 San Diego took the 6-3 win, and more recently, acquired Chase De Leo who scored twice for the Moose in that matchup. De Leo played 220 regular and post-season games for Manitoba, amassing 115 total points (47G, 68A). Since the swap of De Leo and Nic Kerdiles on June 30/18, the former Moose has scored 10 points (4G, 6A) in 14 games with his new club. Kerdiles has been limited by injury but has played in three games for the Moose (1A).
Manitoba's roster also features Logan Shaw who was a member of the Gulls earlier this season, before he was signed by the Winnipeg Jets. In the six games since Shaw joined the Moose, he's racked up seven points (3G, 4A).
Shaw and the rest of the Moose will see a few debuts today as Marko Dano plays his first game with the club since the 2016-17 season. Dano's current campaign took an odd start, but he's excited to join the Moose and get into some games.
"[The Jets] were hoping nobody was going to pick me up when they put me on the waivers here. I got picked up by Colorado, and things didn't work out, and then they put me on waivers and Winnipeg took me back. I'm happy to be back here and now I'm going to get the chance to play bigger minutes and get my confidence back."
Manitoba is coming off a stretch of 15 straight games against the Central Division on which they went 8-6-1-0. That finished up with a weekend set against Iowa this past Friday (Nov 23) and Saturday (Nov 24) from which, Head Coach Pascal Vincent took many positives.
"I like the way we played. I think we were moving faster. We were supporting the puck, our breakouts were better. We were attacking the net. We had more O-zone time than the other team. We had some good heavy shifts. We were able to play four lines. It was a pretty good weekend for us. I think we're coming together. We gave ourselves 20 games to have a real good evaluation on our players. We have a pretty good read right now on what's going on."
The next challenge will be to improve the club's road record as Manitoba is currently 3-5-1-0 away from Bell MTS Place in 2017-18.
Don't forget, you can follow the team while they're away on all our social media channels, or on moosehockey.com.