Preview: Moose vs. Iowa Oct. 19
By: Daniel Fink | Published: October 19th 2019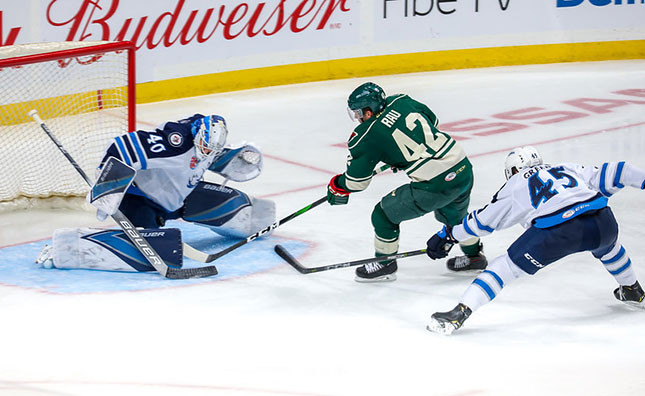 It was a Wild night in more ways than one in downtown Winnipeg yesterday evening. The visiting Iowa Wild claimed a 6-4 victory over the Moose in what was a back-and-forth affair that had something for everyone. Slick goals, big hits, highlight reel saves, some extra-curriculars between whistles… last night's game had it all. Unfortunately for the 5,102 fans in attendance at Bell MTS Place, the game didn't go Manitoba's way.
Sam Anas' power play tally with just over five minutes to go in the third cut off the Moose on their way to at least a point. Michael Spacek and C.J. Suess scored 2:53 apart in the third to get the Moose back on even footing after trailing 4-2 early in the final frame. All the momentum in the contest seemed to be rolling with the home side, until Iowa's ninth power play opportunity of the game.
Special teams were the story last night. 15 combined power plays between the clubs and four power play goals. The Moose held the Wild to one goal on the man advantage through eight penalty kills, but chances nine and 10 proved to be Manitoba's undoing. On a positive note, the Moose power play cashed in for the first time of the season when Andrei Chibisov slipped a pass across the crease to Michael Spacek who ripped one of his signature one-timers past Kaapo Kahkonen.
"It's good to be able to get back into games. The bench was good and everything," JC Lipon told members of the media following the loss. "Obviously not the result we want, but we'll see what happens tomorrow and if we show up like that. It's hard to play two games like that in a row, so we'll see who comes out."
With a hard-fought loss behind them, the Moose look to snap their current three-game slide and pick up their first win on home ice. The Moose changed up their lines heading into last night's matchup and the grouping of C.J. Suess centering Kristian Vesalainen and Seth Griffith paid dividends. Suess scored the big tying marker, while Griffith notched three assists and Vesalainen posted a pair of helpers. The home side will hope to see that offensive spark keep lit in the back-half of the set.
Manitoba's blue-line has some questions around it right now. Both Cameron Schilling and Logan Stanley didn't finish last night's game. Moose head coach Pascal Vincent told the media post-game that Stanley would not be available, and with Sami Niku already out, losing Schilling would certainly be a blow. That said, the Moose have plenty of depth on their back end with Leon Gawanke and Jimmy Oligny available to step in if needed. Johnathan Kovacevic has seen plenty of action since entering the lineup last Saturday due to Niku's injury. Coach Vincent likes what he sees from the rookie so far.
"I think he's a player. I like his compete level. I like his stick. I like his attitude. He's a big body. He makes plays under pressure and is willing to take hits to make plays," Vincent explained. "(Iowa) is a heavy team on the forecheck and he didn't change the way he was retrieving pucks, and that's a skill. Be willing to get back, and you know you're going to get hit, and probably really hard. And he has this skill, the compete level we need to have in order to make plays. So you put all the pieces of the puzzle together… I think he's a good player."
Don't forget to get spooky for tonight's Halloween game. Fans are encouraged to wear costumes to take part in the evening's festivities. The first 3,000 fans through the doors will receive a reusable trick-or-treat bag, and there will be an opportunity to use it on the concourse. Tickets are still available at moosehockey.com/tickets. Puck drop for tonight's game is scheduled for 6 p.m.
Tonight's game will be broadcast on TSN 1290, moosehockey.com/listenlive and AHLTV. Tune in to the pre-game show starting at 5:45 p.m. on moosehockey.com, with coverage on TSN 1290 beginning at 6 p.m.