Preview: Round Two with the Rampage
By: Colin Peterson | Published: October 21st 2018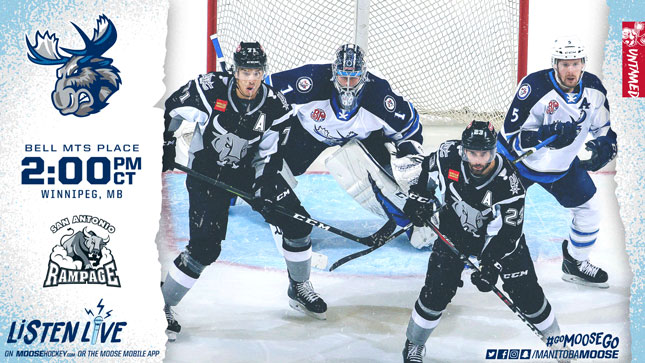 Oct. 21, 2018 vs SAN ANTONIO RAMPAGE
The Manitoba Moose (2-3-0-0) have a chance to wrap up their first home stand of the season in style, seeking their third win in four games. They take on the San Antonio Rampage (1-4-0-0) this afternoon at Bell MTS Place. Today is also Manitoba Moose Pride Day so get your tickets while they last at moosehockey.com/tickets/.
As part of the festivities today, specialty t-shirts and posters will be available for purchase, and there will be a player-used stick auction, with the proceeds supporting Rainbow Resource Centre. Stop by the 6 Degrees Photobooth Co. on the concourse for some fun photos, and make sure you get to your seats in time to catch the national anthems performed by Rainbow Harmony.
The Moose beat the Rampage 4-1 just two nights ago with stellar performances from JC Lipon and Eric Comrie. Lipon scored the game's first marker, his first of the season, by cleaning up a rebound off a Sami Niku shot. He also wrapped the action up with his second of the night on an empty net goal.
Comrie, meanwhile registered both his second straight win, and his second straight appearance with more than 30 saves. The Edmonton, Alta. native stopped 34 of the 35 San Antonio shots he faced. After the game Comrie said he believes it was the coaches who set the team up for success on Friday.
"I think our team is starting to come together. I mean, we've always been a tight group, [it's] just our culture we have instilled here in Manitoba. But, I think we're really just starting to buy into our systems… The coaching staff is doing an awesome job of making sure that we're just understanding what we have to do every single game to be successful."
Head Coach Pascal Vincent also spoke after the victory eexplaining what that message to his players has been.
"It was a good game, but in no means it was perfect. But, we're running our routes faster. Instead of thinking and then moving we're moving a bit faster right now. I guess a week of practice helps for sure and the guys worked hard this week trying to keep it simple. It's about puck management and knowing where the puck is going so you can get there fast. I think our puck management was much better in the third period and you could see it."
The special teams were a big factor in the Moose coming out on top. In their two wins so far this season, Manitoba's penalty kill is a perfect 10/10, while in their three losses they've given up a total of seven power play goals on 17 times shorthanded.
Worth monitoring today, will be the point streaks of Sami Niku and Mason Appleton. The pair of sophomores have each registered a point in the last three games. Rookie C.J. Suess has been an early-season standout in Manitoba. He scored his fourth of the season on Friday night, and leads the club in both points and goals.
If you can't make it to Pride Day today, be sure to tune in on moosehockey.com/listenlive/, the Moose App, or stream the action live on AHLTV.