Preview: Next Stop, Milwaukee
By: Colin Peterson | Published: October 27th 2018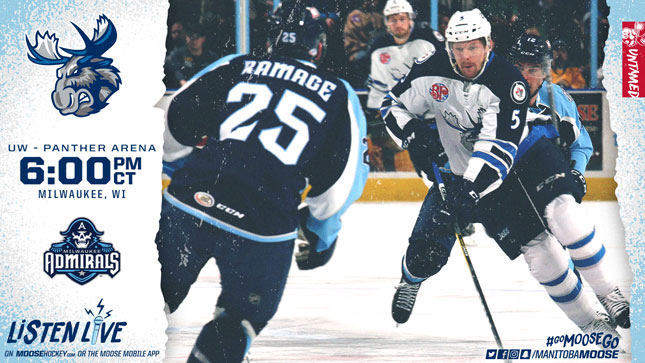 Oct. 27, 2018 at MILWAUKEE ADMIRALS
The Manitoba Moose (3-3-0-0) are back on the road and starting a three-game road stretch tonight against the Central Division leading Milwaukee Admirals (7-1-1-0). The puck drops at 6 p.m. CT, and you can tune in on moosehockey.com/listenlive/ or the Moose App.
It'll be the first meeting of the season between the Moose and Admirals. Manitoba went 4-1-0-3 against Milwaukee in 2017-18, outscoring the Admirals 29-15. The Winnipeg Jets affiliate is searching for their first road win of the season, but rides the momentum of a two-game win streak into tonight.
Manitoba's previous outing saw Mason Appleton lead the Moose with an electric five-point night (3G, 2A) in a 6-3 win over San Antonio on Sunday. Appleton is the 10th player in franchise history to tally five points in a game, and just the third to record a hat trick while doing so. The Green Bay, Wis. native also extended his point streak to four games.
"First hattrick in a long time. Can't remember when the last one was, but yeah it felt good. Felt good to get the win too… I think it was a pretty complete weekend for us."
After the game, Head Coach Pascal Vincent spoke about what it is that makes last year's AHL Rookie of the Year effective.
"I think Mason Appleton knows exactly what he needs to do, he figured it out last year. He had a good year, for sure… when he moves his legs, moves his feet, good things happen and that's what he did today. And he obviously scored three goals, but I think it was just the result of doing a lot of good things without the puck and with the puck that just ended up with some points."
To beat Milwaukee, the team will look to other contributors as well. Former Jets's first-round pick Kristian Vesalainen has four assists in his first two games with Manitoba.
"It's just two games I've been here, but every game has been better, so yeah it feels good… Here I get to play a lot of minutes so it's good for me."
While the team looks at the three-win, four-game home stand as a positive, Moose defenceman and alternate captain Cameron Schilling said the team will find out a lot this weekend.
"Obviously this weekend is going to be a true test, because Rockford and Milwaukee are pretty good teams. So we'll see where we stand, but overall I thought it was a good weekend."
C.J Suess is another Moose skater worth watching. The first-year forward is currently tied for the AHL rookie lead in goals with five, so far, this season. The Forrest Lake, Minn. native also leads his teammates in goals and is second on the squad in points.
After tonight's game, the Moose head to Rockford for Sunday matchup with the Icehogs at 4 p.m. CT. You can catch all this weekend's action on moosehockey.com/listenlive/, the Moose App, or stream the action live on AHLTV.