Fast Facts: Moose vs. Iowa – Oct. 29
By: Manitoba Moose Staff | Published: October 29th 2022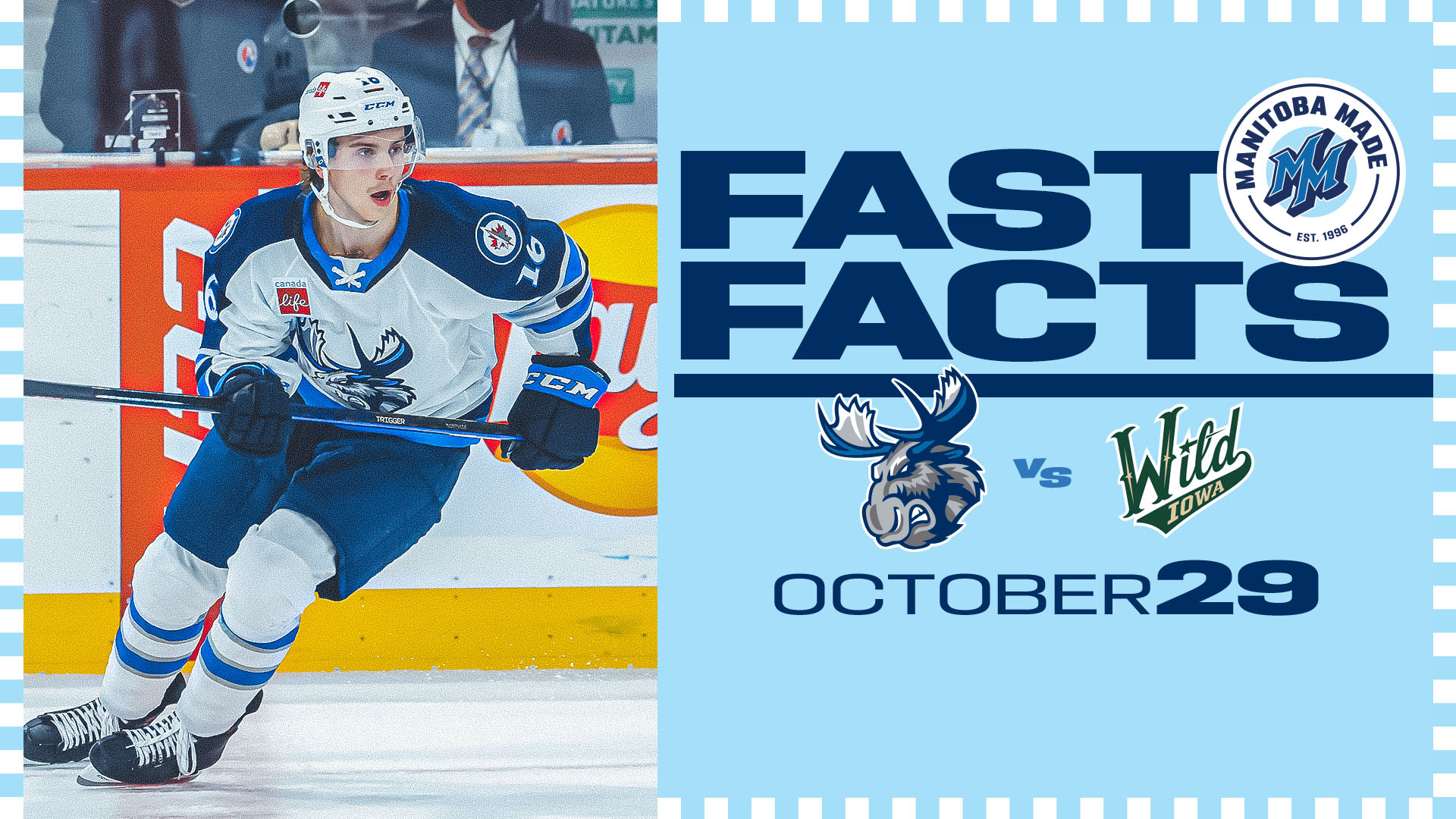 The Moose play the first of a six-game home stand today when they host the Iowa Wild at 2 p.m. Manitoba is off to a hot start with a 4-0-1-0 record in its first five games, including a three-in-three sweep last weekend. The Wild are searching for their first win of the campaign, but have a pair of points by virtue of a 0-2-0-2 record.
Today's game features the Share the Warmth campaign presented by Red River Co-op in support of Siloam Mission. Fans are encouraged to bring hygiene items to donate to Siloam Mission at today's game. Limited hampers will be available for purchase on the concourse. Tickets for the matinee matchup are available at MooseHockey.com/TICKETS.
Stay Hot Harks!
Forward Jansen Harkins tops the early-season Moose scoring leaderboard. Harkins has put together seven points (4G, 3A) in four contests and recorded at least one point in every single game he's played this season. The forward currently owns a four-game goal-scoring streak and has tallied three multi-point games in a row. Harkins, a former second round pick of Winnipeg in 2015, also registered the game-winning tally in two of Manitoba's four wins this season. The North Vancouver, B.C. native's longest AHL point streak to date is a ten-game journey that started on Nov. 2/19 and end on Nov. 20/19 and saw the forward record 18 points (3G, 15A).
Picking Up Points
Hernri Nikkanen has quietly put together a productive start to the season. The forward, who was drafted by Winnipeg in the fourth round in 2019, has recorded four points (2G, 2A) in five contests. He also owns a plus-four rating and finds himself on a three-game point streak, which is the longest of his AHL career to date. Nikkanen registered his first career AHL goal in Manitoba's 5-2 win over the Wolves in Chicago on Oct. 21/22. Prior to his time in antlers, the Mikkeli, Finland native played professionally in Liiga with both Jukurit and Pelicans before making the jump to Manitoba late this past season.
Cool in the Crease
Oskari Salminen has wins in all three of his starts this season. The netminder, who was signed to a two-year deal by Winnipeg over the summer, is currently in six-way tie in wins among goaltenders in the AHL. The netminder registered a 1.67 goals-against average and a .939 save percentage in his first three turns in net. The native of Kotka, Finland also has a shutout on his resume, which came during his first AHL and North American start on Oct. 16/22. Salminen put together a 29-14-11 record last season in Liiga to go along with a 2.07 goals-against average and a .920 save percentage. He also led the league with nine shutouts over his 55 games played.
Mikey The Magician
Mikey Eyssimont kicked the offence into gear on Sunday with his second multi-point performance of the season. The forward did all his damage in the final 40 minutes and ended the night with three points (1G, 2A), seven penalty minutes, five shots and a plus-two rating.  The three-point game was the fourth of the forward's AHL career and second during his tenure in antlers. The Littleton, Colo. native is currently positioned second on the Moose with six points (2G, 4A) and tied for second with a plus-five rating through Manitoba's first five games of the 2022-23 campaign.
Who's Trending?
Ville Heinola sits with three assists in five games to start the 2022-23 season. The defenceman currently tops the squad with a plus-eight rating. Heinola's two assists in Manitoba's win over Rockford represent the first multi-point game of the defender's season. The Winnipeg Jets 2019 first round pick is closing in on 50 career AHL points.