Preview: Second Chance in Milwaukee
By: Colin Peterson | Published: October 30th 2018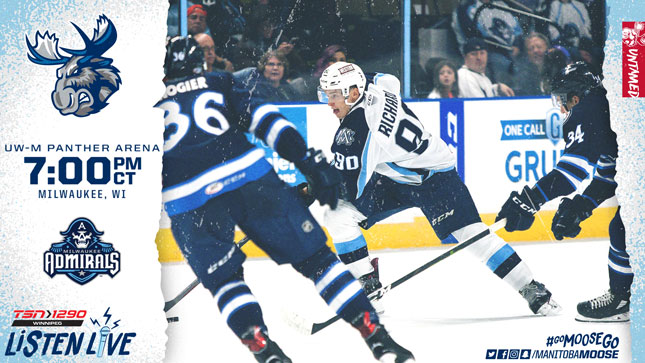 Oct. 30, 2018 at MILWAUKEE ADMIRALS
The Manitoba Moose (4-4-0-0) get a shot a redemption Tuesday night against the Milwaukee Admirals (8-1-1-0). Tonight's 7 p.m. CT puck drop will be broadcast on TSN 1290, the Moose App, moosehockey.com/listenlive, and streaming live on AHLTV
The two teams met just three days ago with Milwaukee nabbing a 4-1 victory at home. Matt Donovan, Emil Pettersson, Jeremy Gregoire, and Anthony Richard scored for the Admirals, while Manitoba's Skyler McKenzie posted his first professional regular season marker.
Since that meeting, Manitoba made the drive down to Rockford to get their first road win of the season, 2-1 in a shootout. To beat the IceHogs, the Moose needed: Tye Mcginn's first goal with the franchise, Mikhail Berdin to stop 35 of 36 shots he faced, and Seth Griffith to score the shootout winner.
After the game, the veteran McGinn credited Berdin, who was making his first pro start, with setting the tone for the team.
"Yeah, big thing is we got good goaltending. We came out to start, and that's what we really needed. Especially on the road against a good team like that. I think we know we didn't play our best game on Saturday night, and we needed a big response. It's good to get those, sometimes, back-to-back games just so you can clear your head and I think that's what we did."
Milwaukee will need to keep tabs on McKenzie, McGinn, and Felix Girard who have accounted for both goals and five points (2G, 3A) in the first two games of the road trip. McGinn explained the team continues to learn how to play together and the key is their grinding style. To win like that, he said they'll need to work hard from start to finish.
"I think we need to start on time. It's a 60-minute game and these guys are a very good team over there. We can't take any time off. Like it showed on Saturday, we got off to a slow start, and before we knew it we were down two or three goals. We can't let that happen against these guys tonight."
The Moose head home tomorrow for a four-game set at Bell MTS Place. First up is the Chicago Wolves (Nov. 3/4). Head to moosehockey.com/tickets/ to get your tickets for all the action, including Saturday's Video Game Night. There will be an interactive gaming lounge on site, and lots of cool surprises. Fans attending are encouraged to bring winter clothing items to support the Moose's Share the Warmth campaign, presented by Red River Co-Op. Those participating will be entered in a draw to win a one-of-a-kind Manitoba Moose branded Playstation 4.