Preview: Moose at Texas
By: Daniel Fink | Published: October 5th 2019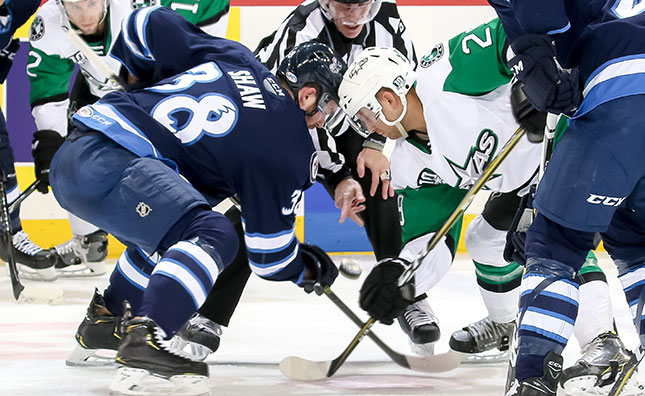 Just like that, the 84th season of AHL hockey (and 20th for the Moose) is under way. The Moose would have liked a different result in their opener, falling 2-1 to the San Antonio Rampage. It was a game that saw the club struggle to come up with a consistent offensive attack, mustering just 23 shots on goal in the defeat. Cameron Schilling came up with the lone Manitoba tally, striking with four seconds to go in the second period.  That set the stage for a possible comeback, but the late push came up short and Manitoba started the year in the loss column.
Moose head coach Pascal Vincent said a lot of it came down to the one-on-one battles Manitoba wasn't able to win.
"I think our 'D' didn't win enough one-on-one battles against a heavy forecheck, and because of heavy bodies, and our forwards didn't win enough battles against their 'D'. So that's not a great combination."
That said, the Manitoba bench boss liked what he saw when the club made adjustments along the way.
"When we adjusted, we were much better at creating chances or limiting chances against."
So now the focus shifts to another Lone Star State opponent in the Texas Stars tonight in suburban Austin.
The Stars also dropped their opener, falling 2-0 to Antti Raanta and the Tucson Roadrunners. Texas also struggled to generate much in the offensive zone, testing Raanta with just 19 shots on goal throughout the contest. The Stars present a different challenge than San Antonio, one that Vincent describes as a deceptive defensive system.
"What they do is they give you the impression that you're going to have time and space in the middle and all of a sudden, the first thing you know is you have two people on top of you. And they're really good at it."
So it will be on the Moose to move the puck quickly, an adjustment Vincent says is something the team covered last season. Getting rid of the puck, even when that apparent time seems available, before the trap closes.
Catch tonight's game on TSN 1290 and moosehockey.com/listenlive getting going at 6:45 p.m. Don't forget it's also the AHLTV free preview weekend so you can watch tonight's matchup free of charge. Visit theAHL.com/AHLTV for more details.