Game Recap: Grand Rapids 5 at Moose 1
By: Manitoba Moose Staff | Published: April 22nd 2018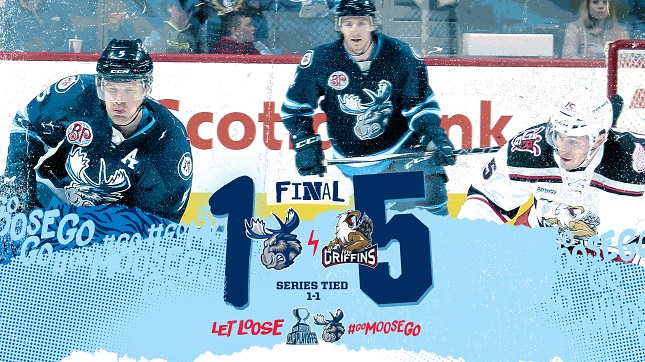 Central Division Semi-Final Game Two
Grand Rapids 5 at Manitoba 1 – Best-of-Five Series Tied 1-1
Sunday, April 22, 2018 – Bell MTS Place, Winnipeg, MB
| | | | | |
| --- | --- | --- | --- | --- |
| Scoring Summary | 1 | 2 | 3 | F |
| Grand Rapids Griffins | 4 | 1 | 0 | 5 |
| Manitoba Moose | 1 | 0 | 0 | 1 |
| | | | | |
| --- | --- | --- | --- | --- |
| Shots By Period | 1 | 2 | 3 | F |
| Grand Rapids Griffins | 10 | 14 | 15 | 39 |
| Manitoba Moose | 11 | 10 | 1 | 22 |
| | | | |
| --- | --- | --- | --- |
| Special Teams | PP | PK | PIM |
| Grand Rapids Griffins | 2/8 | 4/4 | 20 |
| Manitoba Moose | 0/4 | 6/8 | 51 |
| | | | | |
| --- | --- | --- | --- | --- |
| Goaltender Summary | Goaltender | MIN | SA | SV |
| Grand Rapids Griffins | Tom McCollum | 59:47 | 22 | 21 |
| Manitoba Moose | Eric Comrie | 40:00 | 24 | 19 |
| Manitoba Moose | Jamie Phillips | 20:00 | 15 | 15 |
Goal Summary
| | | | | | | | |
| --- | --- | --- | --- | --- | --- | --- | --- |
| P | TIME | TEAM | GOAL | ASSIST | ASSIST | STR | SCORE |
| 1 | 2:43 | MB | F. Beauvillier (1) | C. Maclise (1) | M. Spacek (1) | ES | 1-0 MB |
| 1 | 6:40 | GR | M. Ford (1) | B. Street (1) | M. Puempel (1) | PP | 1-1 |
| 1 | 11:33 | GR | E. Tangradi (1) | M. Ford (1) | B. Street (1) | PP | 2-1 GR |
| 1 | 13:08 | GR | T. Elson (2) | J. Hicketts (2) | M. Ford (2) | ES | 3-1 GR |
| 1 | 18:56 | GR | B. Street (2) | | | ES | 4-1 GR |
| 2 | 13:24 | GR | E. Svechnikov (1) | A. Holmstrom (1) | D. Renouf (1) | ES | 5-1 GR |
Game Story
The Manitoba Moose (1-1) and Grand Rapids Griffins (1-1) matched up for the second game of their Central Division Semi-Final series on Sunday afternoon at Bell MTS Place.  The Moose struck early in the contest as Francis Beauvillier whacked away at a loose puck in the crease to force it over the line at the 2:43 mark.  Grand Rapids retaliated with the next four goals of the period.  Matthew Ford started the run with a power play goal 6:40 into the frame.  Eric Tangradi followed with another power play tally at 11:33.  Grand Rapids made it a two-goal game 1:35 later when Turner Elson's wrister found its way past a screened Eric Comrie.  Ben Street rounded out the period with a breakaway goal with 1:04 left in the first to send the visitors to the dressing room with a 4-1 advantage.
The Griffins added to their lead in the second period when Evgeny Svechnikov was turned away on a one-timer by Comrie, but found the puck behind the Moose goaltender and tucked it away.  Grand Rapids outshot Manitoba by a 14-10 margin in the period as the Moose went to the third trailing 5-1.
The third period saw the teams start a parade to the penalty box, with the squads combining for 57 penalty minutes.  Jamie Phillips took over in the Moose net for his first professional playoff action and stopped all 15 shots he faced.  Neither team found the back of the net in the final frame as Grand Rapids skated to the 5-1 victory and evened the best-of-five series 1-1.
Quick Hits
Francis Beauvillier scored his first career Calder Cup Playoffs goal.
Cam Maclise picked up an assist for his first career Calder Cup Playoffs point.
Attendance was announced at 4,704.
Quotable
Captain Patrice Cormier on the need to stay out of the penalty box – "We have to do a better job. You learn. You can't win the series in Game 2, and you can't lose the series in Game 2. But for sure, penalties cut our legs out a little bit. Obviously when they score on those penalties it's even worse."
Head Coach Pascal Vincent – "We need to regroup as a team, understand what happened, learn from it and go from there. Next game is Wednesday, so we have two days to regroup. Today is not who we are as a team. We lost our composure."
Linked Up
Game Summary: https://mbmoo.se/2F9uHv4
Highlights and Post-Game Coverage: https://moosehockey.com/moosetv/
Photo Gallery: https://mbmoo.se/2HHBOQY
What's Next?
The Moose and Griffins head to Grand Rapids for the next three games of the best-of-five series this week.  Game 3 goes on Wednesday at Van Andel Arena.  Tune into the matchup on TSN 1290 and moosehockey.com/listenlive.