Recap: Moose 2 at San Antonio 4
By: Manitoba Moose Staff | Published: January 21st 2017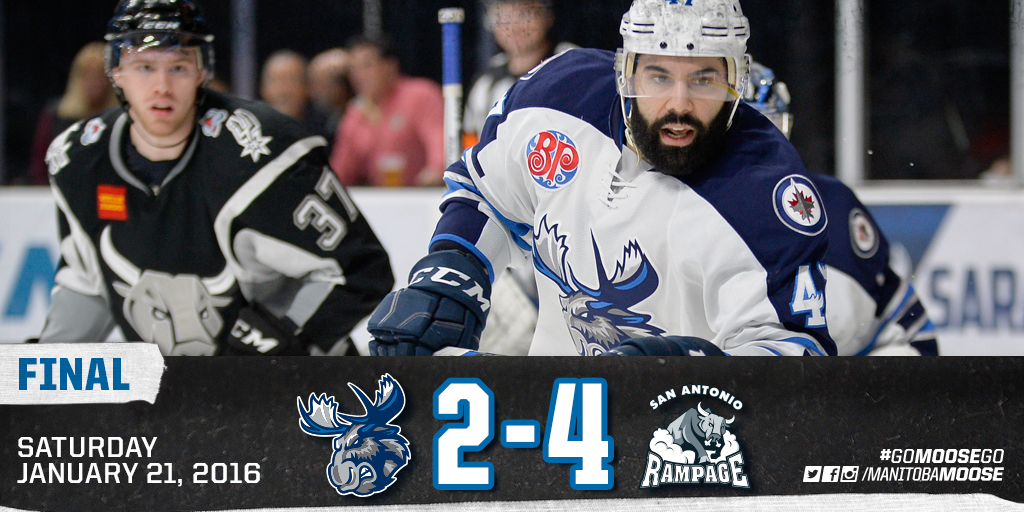 Manitoba Moose (16-19-3-2) at San Antonio Rampage (17-20-4-0)
Saturday, January 21, 2017 – AT&T Center, San Antonio TX
| | | | | |
| --- | --- | --- | --- | --- |
| Scoring Summary | 1 | 2 | 3 | F |
| Manitoba Moose | 1 | 1 | 0 | 2 |
| San Antonio Rampage | 1 | 2 | 1 | 4 |
| | | | | |
| --- | --- | --- | --- | --- |
| Shots By Period | 1 | 2 | 3 | F |
| Manitoba Moose | 11 | 7 | 11 | 29 |
| San Antonio Rampage | 16 | 8 | 4 | 28 |
| | | | |
| --- | --- | --- | --- |
| Special Teams | PP | PK | PIM |
| Manitoba Moose | 1/4 | 2/2 | 4 |
| San Antonio Rampage | 0/2 | 3/4 | 8 |
| | | | | |
| --- | --- | --- | --- | --- |
| Goaltender Summary | Goaltender | MIN | SA | SV |
| Manitoba Moose | Eric Comrie | 58:47 | 27 | 24 |
| San Antonio Rampage | Jeremy Smith | 60:00 | 29 | 27 |
Goal Summary

| | | | | | | | |
| --- | --- | --- | --- | --- | --- | --- | --- |
| PER | TIME | TEAM | GOAL | ASSIST | ASSIST | STR | SCORE |
| 1 | 7:09 | SA | Rocco Grimaldi (13) | Felix Girard (6) | Gabriel Bourque (9) | ES | 1-0 SA |
| 1 | 17:22 | MB | Kevin Czuczman (6) | Dan DeSalvo (10) | Jack Roslovic (14) | PP | 1-1 |
| 2 | 4:29 | SA | Chris Bigras (3) | Garry Nunn (5) | Joe Whitney (14) | ES | 2-1 SA |
| 2 | 8:20 | MB | Brendan Lemieux (7) | Jimmy Lodge (8) | Dan DeSalvo (11) | ES | 2-2 |
| 2 | 14:11 | SA | A.J. Greer (12) | Mike Sislo (11) | Mat Clark (2) | ES | 3-2 SA |
| 3 | 19:49 | SA | Felix Girard (4) | Mat Clark (3) | Sam Henley (6) | EN, SH | 4-2 SA |

Game Story
The Manitoba Moose entered tonight's game looking for a sweep against the San Antonio Rampage after the Moose came away with a 2-0 shutout win on Friday night. It was back and forth start to the opening period until the Rampage broke into Manitoba's zone as Rocco Grimaldi snuck behind the Moose defence – putting home his 13th goal of the season at 7:09. Manitoba pulled even a little over 10 minutes later as the Moose worked the puck on the powerplay. Dan DeSalvo fed Kevin Czuczman at the point, who wired a slapper by Jeremy Smith to tie the game at one. Eric Comrie was busy in the opening frame making 15 saves.
After a calm start to the second, San Antonio regained the lead as Chris Bigras' point blast made its way past Comrie at 4:29. The Moose tied things once again when Brendan Lemieux skated the puck out from behind the San Antonio net and fired a shot on goal scoring his seventh of the season at 8:20. Jimmy Lodge and Dan DeSalvo grabbed assists on the goal. Looking to avoid a seventh straight loss, the Rampage's A.J. Greer picked up the puck at the Moose blue line, skated it down the left wing and cut to the goal as he slid home his 12th marker of the season at 14:11 in the middle frame. The two teams avoided the penalty box in the second as the Moose trailed 3-2 heading into the third.
With the Moose pressuring to tie things up in the third, Manitoba had a flurry of chances in the final 10 minutes but Jeremy Smith stood tall making 27-saves. Manitoba was awarded a late game powerplay with the Moose coming close a handful of times. As the Moose tried to even the game, San Antonio's Felix Girard swiped at a loose puck and it ended up going all the way down the ice into Manitoba's empty net as San Antonio skated to a 4-2 victory.
Quick Hits
Dan DeSalvo had two assists in tonight's game giving him 21 points (10G, 11A) on the season.
Jack Roslovic's assist on Kevin Czuczman's goal gives him points in two straight games (2A).
Brendan Lemieux has goals in two of his last three games.
Tonight's attendance was 5,252.
What's Next?
Manitoba continues their six-game road trip on Tuesday night (Jan. 24) when they head back to Cedar Park, TX for a matchup with the Texas Stars. Puck drop for the game is set at 7:30 p.m. CT. Tune in to all the action on the road on TSN 1290 and moosehockey.com/listenlive beginning 15 minutes before puck drop.
Photos courtesy: Darren Abate