Game 4 Recap: Moose 3 at Rockford 6
By: Daniel Fink | Published: May 11th 2018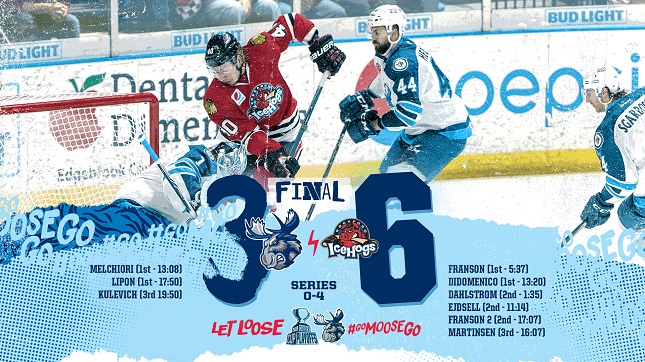 Manitoba Moose (3-6) at Rockford IceHogs (7-0)
Rockford Wins Best-of-Seven Series 4-0
Friday, May 11, 2018 – BMO Harris Bank Center, Rockford, IL
| | | | | |
| --- | --- | --- | --- | --- |
| Scoring Summary | 1 | 2 | 3 | F |
| Manitoba Moose | 2 | 0 | 1 | 3 |
| Rockford IceHogs | 2 | 3 | 1 | 6 |
| | | | | |
| --- | --- | --- | --- | --- |
| Shots By Period | 1 | 2 | 3 | F |
| Manitoba Moose | 10 | 12 | 16 | 38 |
| Rockford IceHogs | 14 | 16 | 6 | 36 |
| | | | |
| --- | --- | --- | --- |
| Special Teams | PP | PK | PIM |
| Manitoba Moose | 0/6 | 4/7 | 26 |
| Rockford IceHogs | 3/7 | 6/6 | 16 |
| | | | | |
| --- | --- | --- | --- | --- |
| Goaltender Summary | Goaltender | MIN | SA | SV |
| Manitoba Moose | Eric Comrie | 58:08 | 35 | 30 |
| Rockford IceHogs | Collin Delia | 60:00 | 38 | 35 |
Goal Summary
| | | | | | | | |
| --- | --- | --- | --- | --- | --- | --- | --- |
| P | TIME | TEAM | GOAL | ASSIST | ASSIST | STR | SCORE |
| 1 | 5:37 | RFD | C. Franson (3) | A. Clendening (7) | C. DiDomenico (6) | PP | 1-0 RFD |
| 1 | 13:09 | MB | J. Melchiori (2) | C.D. Beaudoin (1) | | ES | 1-1 |
| 1 | 13:40 | RFD | C. DiDomenico (4) | G. Forsling (2) | D. Raddysh (1) | ES | 2-1 RFD |
| 1 | 17:50 | MB | JC Lipon (1) | | | SH | 2-2 |
| 2 | 1:35 | RFD | C. Dahlstrom (2) | A. Louis (5) | V. Ejdsell (3) | PP | 3-2 RFD |
| 2 | 11:24 | RFD | V. Ejdsell (5) | | | PS | 4-2 RFD |
| 2 | 17:07 | RFD | C. Franson (4) | C. DiDomenico (7) | A. Clendening (8) | PP | 5-2 RFD |
| 3 | 16:07 | RFD | A. Martinsen (2) | | | EN | 6-2 RFD |
| 3 | 19:50 | MB | J. Kulevich (1) | J. Melchiori (4) | B. Robinson (3) | ES | 6-3 RFD |
Game Story
The Manitoba Moose (3-6) and Rockford IceHogs (7-0) met in Game 4 of the Central Division Finals with Manitoba facing a sweep in Rockford.  The hosts opened the scoring 5:37 into the game on power play rocket from Cody Franson.  The Moose pulled even with 6:51 remaining in the period when Julian Melchiori snuck a shot through from the point for his second goal in as many games. The tie lasted just 31 seconds as Chris DiDomenico put Rockford back in front, calling his own number on a three-on-two rush.  A clash between the teams behind the IceHogs net with 3:17 left in the period resulted in a major penalty being assessed to Patrice Cormier.  The numbers game didn't go in favour of the IceHogs as JC Lipon stole the puck, raced in on a breakaway and slipped a backhander past Collin Delia with 2:10 to go in the period.  The penalty killers held until the intermission to keep the game tied 2-2.
The second period saw the IceHogs power play do some damage.  The Moose nearly killed off the major, but Carl Dahlstrom's point shot re-directed into the the Manitoba net off a defender's stick with eight seconds left in the penalty.  With Rockford on another power play midway through the frame, Victor Ejdsell broke in alone, but was impeded by a Moose defender from behind resulting in a penalty shot.  Ejdsell scored with a pretty backhand move to give Rockford a 4-2 edge.  With just under three minutes left in the period Franson added his second power play tally of the game for a 5-2 Rockford lead after 40 minutes.
The Moose pressed in the third frame, but were unable to close the gap through the early stages of the period.  Manitoba called Eric Comrie to the bench with 5:30 remaining in the game, but after a flurry of chances, Andreas Martinsen's clearing attempt rolled into the Moose net.  Manitoba didn't go quietly as Jake Kulevich pounded home a rebound for his first professional goal with 10 seconds remaining, but the Moose would fall 6-3.
Quick Hits
Julian Melchiori led the Moose in scoring for the series with four points (2G, 2A).
JC Lipon's shorthanded goal was his first career Calder Cup Playoffs goal.
Charles-David Beaudoin recorded his first Calder Cup Playoffs point with an assist.
Attendance was announced at 4,516.