Recap: Moose 2 at San Diego 3
By: Daniel Fink | Published: November 12th 2016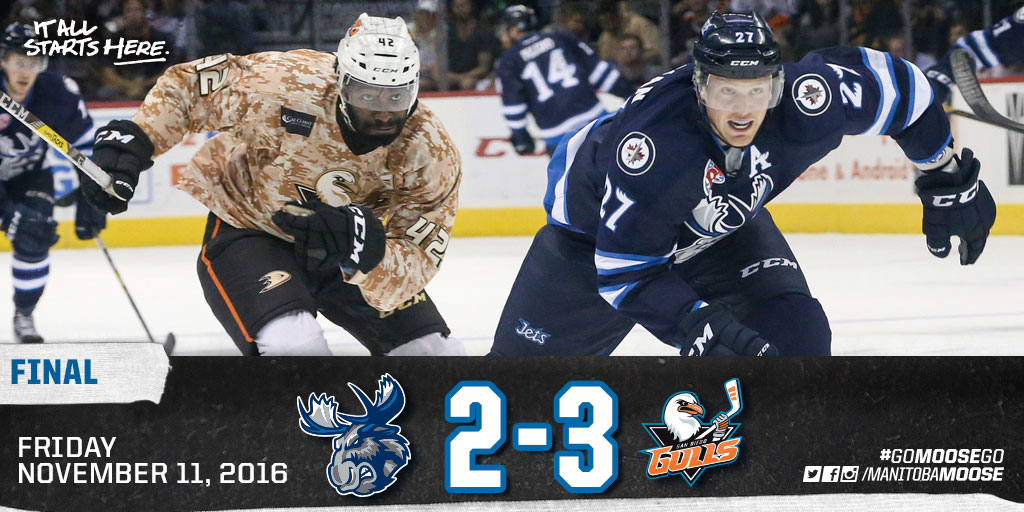 Manitoba Moose (6-4-1) at San Diego Gulls (3-5-1)
Friday, November 11, 2016 – Valley View Casino Center – San Diego, CA
| | | | | |
| --- | --- | --- | --- | --- |
| Scoring Summary | 1 | 2 | 3 | F |
| Manitoba Moose | 0 | 1 | 1 | 2 |
| San Diego Gulls | 1 | 1 | 1 | 3 |
| | | | | |
| --- | --- | --- | --- | --- |
| Shots By Period | 1 | 2 | 3 | F |
| Manitoba Moose | 6 | 5 | 12 | 23 |
| San Diego Gulls | 11 | 13 | 13 | 37 |
| | | | |
| --- | --- | --- | --- |
| Special Teams | PP | PK | PIM |
| Manitoba Moose | 0/2 | 4/5 | 32 |
| San Diego Gulls | 1/5 | 2/2 | 16 |
| | | | | |
| --- | --- | --- | --- | --- |
| Goaltender Summary | Goaltender | MIN | SA | SV |
| Manitoba Moose | Eric Comrie | 59:38 | 37 | 34 |
| San Diego Gulls | Dustin Tokarski | 59:30 | 23 | 21 |
Goal Summary
| | | | | | | | |
| --- | --- | --- | --- | --- | --- | --- | --- |
| P | TIME | TM | GOAL | ASSIST | ASSIST | STR | SCORE |
| 1 | 19:48 | SD | Jordan Samuels-Thomas (1) | Ondrej Kase (3) | Shea Theodore (4) | ES | 1-0 SD |
| 2 | 12:38 | SD | Kevin Roy (4) | Brandon Montour (7) | Corey Tropp (8) | ES | 2-0 SD |
| 2 | 16:09 | MB | Dan DeSalvo (1) | Scott Kosmachuk (2) | | ES | 2-1 SD |
| 3 | 1:01 | SD | Brandon Montour (3) | Kalle Kossila (4) | Shea Theodore (5) | PP | 3-1 SD |
| 3 | 16:55 | MB | Kevin Czuczman (2) | Dan DeSalvo (1) | | ES | 3-2 SD |
Game Story
The Manitoba Moose (6-4-1) opened their five game road trip against the San Diego Gulls (3-5-1).  The first period saw the Moose with plenty of zone time, but they weren't able to convert it into a tally on the scoreboard.  Their best chance came when Quinton Howden spun from the wall and fired a wrister off the crossbar.  Eric Comrie held the Gulls off the board for the first 10 shots of the frame, but San Diego's 11th attempt found the mark to open the scoring.  Jordan Samuels-Thomas cashed in on a broken play with just 11.3 seconds remaining to give the Gulls a 1-0 lead after one.
San Diego continued to pressure Comrie in the second period, putting 13 shots on goal.  Once again, just one shot found its way past the Moose goaltender when Kevin Roy tipped a Brandon Montour offering at the 12:38 mark.  Manitoba cut into the lead when Dan DeSalvo pounced on a loose puck and picked the top corner with 3:51 left in the period.  The 2-1 score held as the Moose went to the break trailing by a single goal.
The home side took advantage of some powerplay time carried over from the second period.  Brandon Montour ripped a low one-timer to the back of the net to push the Gulls lead to 3-1.  The period got feisty with Darren Kramer pairing off with Nick Tarnasky and Jake Baker going toe-to-toe with Corey Tropp.  Kevin Czuczman got the Moose back within one when he snuck a shot by Dustin Tokarski to bring the score to 3-2.  DeSalvo assisted on the goal for his second point of the night.  That was as close as the Moose came as their four game win streak came to an end with San Diego taking the 3-2 win.
Quick Hits
Brenden Kichton returned to duty after missing nine games.
Dan DeSalvo scored his first goal in his season debut after signing a PTO on Thursday.
Scott Kosmachuk picked up his first road point with an assist on DeSalvo's goal.
Game attendance was announced at 10,044.
What's Next?
The Moose and Gulls don't waste any time getting back to work.  They meet again Saturday night in San Diego.  Listen to the action live beginning at 8:45 p.m. CT on TSN 1290 and at moosehockey.com/listenlive.