Moose Host Remembrance Day Game Monday
By: Manitoba Moose Staff | Published: November 7th 2019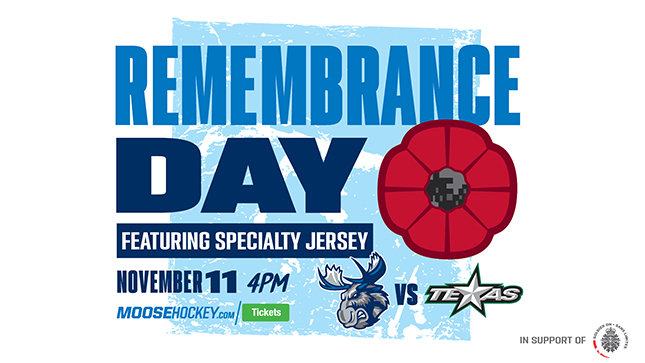 CLICK HERE FOR TICKET + HAT SPECIAL OFFER
The Moose continue their long history of celebrating the military after bringing back their Military Appreciation Night for the first time last season since returning to Manitoba in 2015. This year's game will take place on Remembrance Day with the first 3,000 fans at Bell MTS Place receiving a Canada Remembers pin.
The Moose will again be raising funds through specialty jerseys which will be worn for the entirety of the game. Last year, the jerseys raised $10,000 for the Hubbell Awards (info at hubbellawards.com). A select number of this year's jerseys will be available via auction on the concourse during the game, with the remainder of the jerseys going up for auction at Auctions.NHL.com from Nov. 15-24. Special military-styled Moose hats will also be available for purchase through the Manitoba Moose App. A limited number of hats will be autographed and worn during the pre-game warm-up by select Moose players, and available via auction on the Moose app. All proceeds from the jerseys and hats will go to Soldier On – a program of the Canadian Armed Forces Transition Group that is committed to supporting veterans and serving members to adapt and overcome permanent physical or mental health injury or illness through physical activity and sport. For more info on Soldier On, please visit soldieron.ca.
A pre-game puck drop ceremony will take place on the ice featuring a Hubbell award winning cadet, an active military member, and a military veteran. They will be accompanied on the ice by the Flag Party during the national anthems, and an RCAF band piper who will play a Remembrance Day tribute prior to puck drop.
Fans will want to bring toonies to the Remembrance Day game, as the Royal Canadian Mint will be on the concourse throughout the game with special D-Day toonies, which fans can swap for at face value to a limit of up to two per person.