Jets Reassign Trio to Taxi Squad, Chisholm to Moose
By: Manitoba Moose Staff | Published: January 16th 2022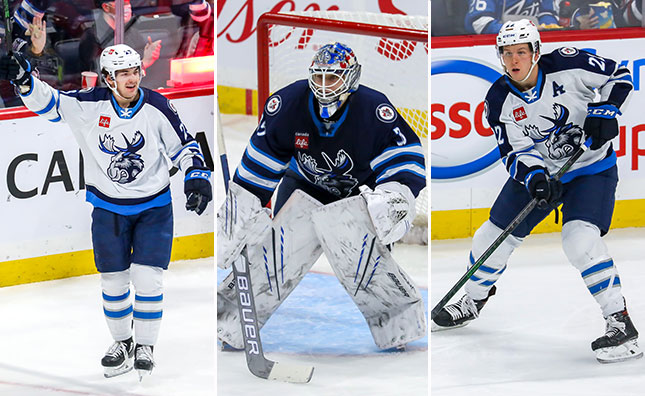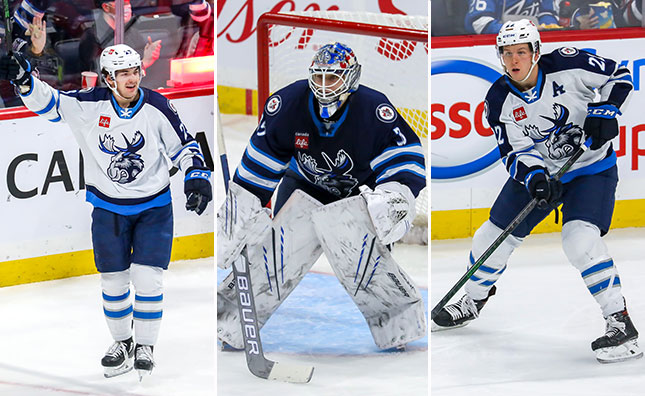 The Winnipeg Jets announced today the team reassigned forwards Mikey Eyssimont, Austin Poganski and goaltender Arvid Holm from the Manitoba Moose to the Taxi Squad. The Jets also announced Declan Chisholm was reassigned to the Moose.
Eyssimont, 25, has 14 points (6G, 8A) in 25 games with the Moose this season. The Littleton, Colo. product has appeared in 187 career AHL games split between the Ontario Reign and Moose. Eyssimont has 80 points (37G, 43A) in those contests. The winger was a fifth round pick, 142nd overall, of the Los Angeles Kings in the 2016 NHL Draft.
Poganski, 25, has recorded 20 points (7G, 13A) in 31 games with Manitoba this season. He's the first Moose skater this season to hit the 20-point plateau. The St. Cloud, Minn. product holds a total of 83 points (27G, 56A) in 150 AHL contests. He has also appeared in seven NHL games, including his Winnipeg Jets debut on Jan. 13 during which he recorded two shots and one hit in 11:10 of ice time. Poganski was drafted by the St. Louis Blues in the fourth round of the 2014 NHL Entry Draft.
Holm, 23, holds a 6-2-1 record in nine games with the Moose this season. The Ljungby, Sweden product is in the midst of his first AHL campaign and features a 2.08 goals-against average to go along with a .908 save percentage. The netminder also registered his first AHL shutout on Dec. 5 in Belleville. Holm was a sixth round selection, 167th overall, of the Jets in the 2017 NHL Draft.
Chisholm, 22, has 14 points (6G, 8A) in 27 games with the Moose this campaign. The Bowmanville, Ont. product made his NHL debut with the Jets on Jan. 13, tallying four shots on goal in 13:44 of ice time. Chisholm has 27 points (8G, 19A) in 55 career AHL contests. He was a fifth round pick, 150th overall, of the Jets in the 2018 NHL Draft.
The Moose are 4-0-0-1 on their current road trip and finish the swing in Iowa against the Wild on Wednesday. Coverage on CJOB.com/sports, AHLTV and the Manitoba Moose App gets going at 6:45 p.m. CT.