Rick St. Croix Announces Retirement
By: Manitoba Moose Staff | Published: August 5th 2021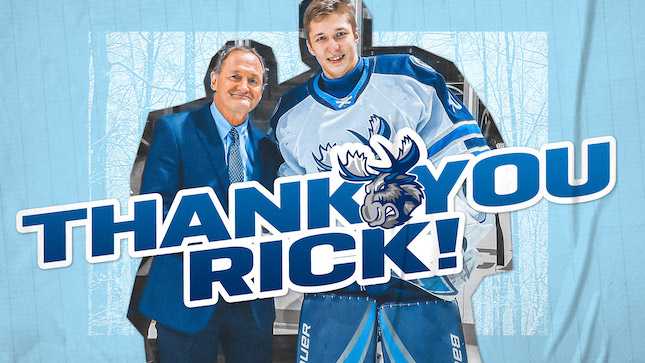 The Manitoba Moose, in conjunction with the Winnipeg Jets, announced today Rick St. Croix has retired from his role as developmental goaltending coach & scout.
St. Croix, 66, served as the organization's developmental goaltending coach and scout the past six seasons. During that time, St. Croix worked with goaltenders including Connor Hellebuyck, Eric Comrie and Mikhail Berdin along with many others to don the antlers.
Prior to his current stint with the Moose, St. Croix spent three seasons as goaltending coach for the Toronto Maple Leafs from 2012-15. Previous to his time with Toronto, the Kenora, Ont. native was the goaltending development coach with the Winnipeg Jets AHL affiliate in St. John's (2011-12) and assistant coach for the Moose from 2004-11 after serving as a goaltending consultant during the 2003-04 season. He was a goaltending coach with the Dallas Stars from 1997-2000 where he was part of the Stanley Cup winning team during the 1998-99 season. St. Croix also was an assistant coach for two seasons with the Winnipeg Jets from 1987-89.
St. Croix's professional playing career spanned 11 seasons with time spent in the NHL (Philadelphia Flyers, Toronto Maple Leafs), the AHL (Springfield Indians, Maine Mariners, Philadelphia Firebirds, St. Catharines Saints) and in the IHL (Fort Wayne Komets).
The organization also announced former Manitoba Moose goaltender Drew MacIntyre has been hired as developmental goaltending coach & scout.