Teddy Bear Toss returns December 12th
By: Chris White | Published: December 1st 2015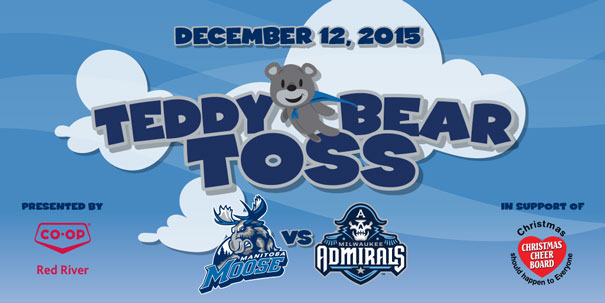 The Manitoba Moose are pleased to announce that, after a five year absence, the Teddy Bear Toss presented by Red River Co-op will return to the MTS Centre when the Moose host the Milwaukee Admirals on Saturday, Dec. 12 at 7:00 p.m.
Fans attending the game are encouraged to bring new or gently used stuffed toys which will be donated to the Christmas Cheer Board to help those in need this holiday season.
Once at the game, and in order to participate in the Teddy Bear Toss, fans must have their stuffed toy registered at one of the Teddy Bear Toss registration tables on the concourse (by no later than the 10-minute mark of the first period) where each stuffed toy will be bagged, sealed and returned to the fan.
During the first intermission, all fans with a registered stuffed toy will be prompted to throw their bag onto the ice. After being tossed on the ice, registered stuffed toys will be picked at random to win various prizes from Red River Co-op and Build-a-Bear.
Fans who forget or are unable to bring a stuffed toy to the game will have the opportunity to purchase one from Build-a-Bear who will have stuffed toys available on the concourse while supplies last. All proceeds from Build-a-Bear sales at the game will be donated to the Christmas Cheer Board.
The all-time franchise record for stuffed toys collected was 2,073 on Dec. 18, 2009 during a 1-0 shutout victory over Lake Erie.
The Christmas Cheer Board was started in 1919 by a number of Winnipeg churches. The original intent was to provide Christmas Hampers and toys for the widows and orphans of the soldiers lost during World War One. The Christmas Cheer Board currently provides assistance to families receiving Employment Income Assistance as well many of the working poor.
Tickets for the Manitoba Moose "Teddy Bear Toss" game and every Moose regular season game are available now at moosehockey.com/tickets.