Third period slips game away from Moose
By: Chris White | Published: January 30th 2016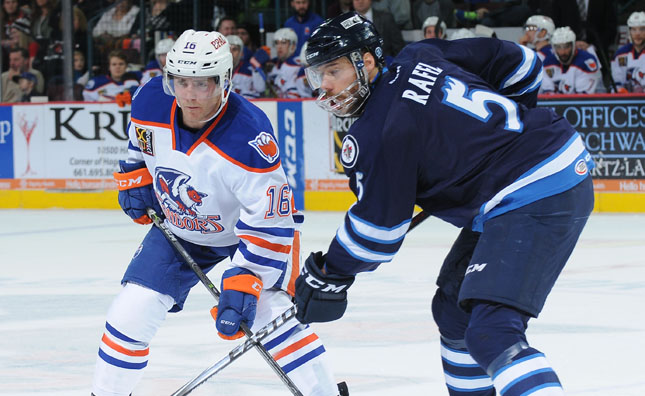 It was the third period where the Moose ran out of gas and the Condors took advantage on Friday night in Bakersfield at the Rabobank Arena.
The Moose had a strong second period where they took the lead on goals from Thomas Raffl and Matt Fraser, but the third was a different story.
Bakersfield outshot Manitoba 17-6 in the third period leading to a five goal period (including an empty net goal) to give the Condors a 6-2 win.
The loss was the first time the Moose have dropped a game in regulation after leading after two periods (8-1-0-1).
Thomas Raffl has now played five games since returning to the lineup following a broken jaw. In his last two games he has a goal and two assists. Raffl's second period goal came shorthanded and was the third by a Moose player this season.
With an assist Chase De Leo continues to lead the Moose in scoring with 11 goals and 13 assists for 24 points this season. De Leo has four assists in his last five games.
Moose forward Nic Petan extended his point streak to four games with an assist. He has a goal and four assists for five points during that stretch.
The Condors had goals from Brad Hunt, Ryan Hamilton, Zack Kassian, Andrew Miller, Matthew Ford, and Kellen Jones.
Laurent Brossoit picked up the win making 29 saves for the Condors while Eric Comrie made 31 saves for the Moose.
The Moose will wrap up their longest road trip of the season on Saturday evening when they face the Ontario Reign at 8 p.m. CT.