Tough night in Chicago for Moose
By: Chris White | Published: December 2nd 2015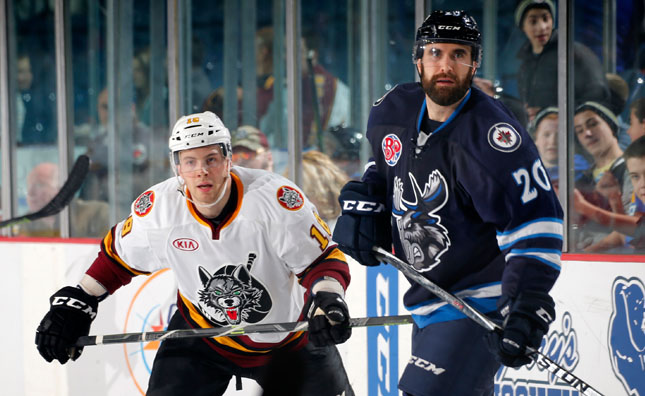 It was a night to forget for the Moose.
Chicago were able to get out to an early lead, scoring three times in the first period.
The Moose did show some push-back in the second period as they outshot the Wolves 12-3 in the middle frame. John Albert scored his second goal in as many games to make it 4-1 by the end of the second period.
But it was all Wolves from there.
Chicago added four more goals in the third period to pull away with an 8-2 victory.
Spencer Asuchak had a hat trick for the Wolves who along with Andre Benoit (1G, 2A) had three point nights.
The only bright spot in the final period for the Moose was a powerplay goal by Chase De Leo with assists to JC Lipon and Patrice Cormier. The assist extended Lipon's point streak to five games and he has now recorded two goals and four assists during that span.
John Albert and Matt Halischuk each recorded points for the second consecutive game.
Eric Comrie made 20 saves while recording his fifth loss of the season.
The Moose will have a couple of days to regroup before opening a two game series against the second ranked team in the Eastern Conference, the Toronto Marlies on Saturday. Game time is 4 p.m. CT.