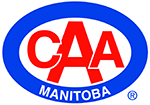 CAA Manitoba, in conjunction with the Manitoba Moose and the Winnipeg Police Service, would like to invite all school patrols to our "Patrol Appreciation Days" on Sunday, December 10, 2017 at 2:00PM, and Saturday February 24, 2018, at 2:00 pm.
Each School patrol will be entitled to a COMPLIMENTARY ticket to both of the Moose games listed above, parents, family and friends will be able to attend at a reduced rate!
Patrols will need to fill out an order form for the complimentary ticket and indicate if they require additional tickets for family and friends. Family and friends of the patrols will be able to purchase additional tickets for $15 per ticket (all lower bowl seats 100/200 level). To further increase the value of the program, patrols and their family will be have the opportunity to pre-order a discounted concession voucher redeemable at the designated patrol games!
The complimentary patrol tickets are non-transferable, the ticket must be ordered under the patrol's name, only one complimentary ticket per order form.
CAA Manitoba and the Winnipeg Police Service will distribute the order forms to the patrol supervisors.  Patrol supervisors will distribute to the patrols who can fill out and return payment to the school.
For more information and to receive an order form, contact:
Brooke Chorney
204.926.5690
bchorney@tnse.com