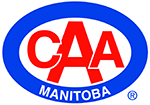 CAA Manitoba, in conjunction with the Manitoba Moose and the Winnipeg Police Service, would like to invite all school patrols to our "Patrol Appreciation Days"
Sunday, November 17, 2019 at 2:00 PM
Monday February 17, 2020, at 2:00 PM
Each school patrol will be entitled to a COMPLIMENTARY ticket to both of the Moose games listed above. Parents, family and friends will be able to attend at a reduced rate.
New this season you will be able to secure your tickets online and load the tickets direct to your phone! To further increase the value of the program, patrols and their family will have the opportunity to pre-order a discounted concession voucher redeemable at the designated patrol games!
The complimentary patrol tickets are non-transferable with one complimentary ticket per account.
CAA Manitoba and the Winnipeg Police Service will distribute program details to patrol supervisors to send home with patrollers!
For more information and to receive an order form, contact:
Justin Augert
204.926.5690
Email Justin