Gawanke Aiming to Take Next Step after Strong Season
By: Anthony Fusco | Published: June 22nd 2022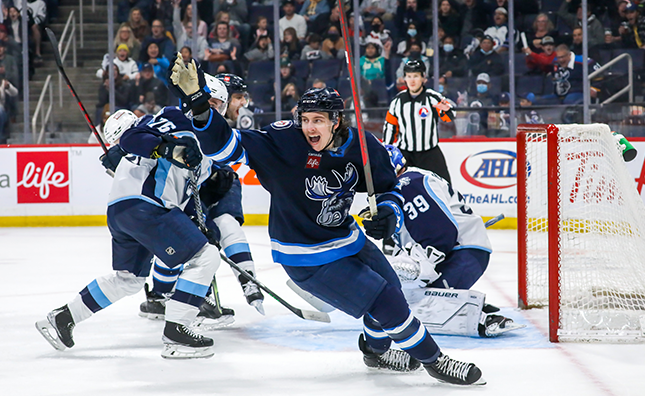 Leon Gawanke came into the 2021-22 AHL season with a chip on his shoulder. The defenceman had his sights set on taking the next step in his development and get himself closer to his dream of playing in the NHL. With that goal clearly defined in his mind, and buoyed by his smooth skating and offensive instincts, Gawanke found his confidence and put together a career year from the back end for the Manitoba Moose.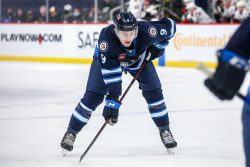 "Obviously personally it was a good year for me," notes Gawanke. "I think I can be happy. I'm proud of what I did this year. Obviously didn't reach my main goal yet, but I think this year showed me in general that I think that I can play on a higher level. Just in general this year was a lot of fun with the guys. At the end, it wasn't what we wanted or expected. But like I said overall, it was a great year to look back at, a lot of great memories, a lot of great people I'm going to miss."
Doing Numbers
Gawanke thrived under head coach Mark Morrison, and converted the coach's trust into 36 points (10G, 26A) in 65 games to lead all Moose blue liners. Though the defenceman wasn't able to make his NHL debut, his convincing campaign wasn't lost on Morrison. The head coach sees Gawanke as another burgeoning prospect in a talented pool of defencemen for the Winnipeg Jets.
"He played well for us. He played some real good hockey," pointed out Morrison during his season ending media availability. "Him and (Declan) Chisholm were excellent paired together. Sometimes Leon got in the back of that group a little bit and he kept battling through it. I have a lot of time for Leon, and I think he had a great season for us. He improved and for me he's right there as well with the rest of the group."
Gawanke punctuated his strong season by further elevating his game in the playoffs. The German defender tallied four points (1G, 3A) in five postseason contests, including a two-point effort in a pivotal Game 3 against the Milwaukee Admirals during the Central Division Semifinals. Despite a highly competitive series, Manitoba was unable to secure themselves the win in a deciding Game 5, which left Gawanke wondering what his next move would be. As it turned out, he wouldn't wait long.
https://twitter.com/TheAHL/status/1524568157414998016
Going International
Gawanke's season earned him an appearance with Germany at the IIHF World Championship in Finland. The invitation marked the defender's second time representing his home nation at the tournament. The Berlin product made the trek overseas and suited up in four contests where he registered one assist as Germany finished seventh in the tournament.
"It's always an honour obviously to play for my country. Anytime I have the chance to play at the World Championships I will definitely take it," observed Gawanke. "I think we played a pretty decent tournament. We had a pretty disappointing loss against Czechia after giving up three power play goals. Other than that, it was a really great experience again. I played last year but it was obviously different with COVID-19. This year I felt like I could get the whole experience. It was a great time and always an honour to represent my country." 
Gaining experience was key for Gawanke, who came away impressed by the quality of his own squad as well as the opposition he faced.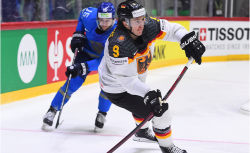 "You can always learn a lot when you go to the World Championships," Gawanke recalled. "Just on the Czechia team you could see their power play was almost a full NHL line with superstars like (David) Pastrnak, (David) Krejci and all those guys. It was definitely a learning experience, but not just from playing against these guys. I played with so many guys on my team that I could learn so much from. There's a couple really good veterans and we had some young NHL players, prospects and some AHL guys as well. It's always nice to get together with this group again."
Now into his summer routine, Gawanke has a firm plan in mind for what he plans on accomplishing to get himself ready for the upcoming season.
"For me, it was always more the off-ice stuff rather than the on-ice stuff," remarked Gawanke from his home in Germany. "Since I got drafted here me and Keaner (Mike Keane, Assistant, Player Development) told me I have to work on my conditioning, my off-ice strength and all of that. So that's what I'm really working on all this summer. Getting my conditioning on a better level. I had a really good summer last year and came in in good shape, but I think I can even do more. I'm already in training and I still have a lot of time ahead of me. I think I can do even more than I did last year and come in better shape. There's no excuses anymore."
Gawanke took a big step forward with the Moose this season. He will now aim to use the results and subsequent confidence boost he gained in an attempt to take the next step in his hockey career. The defenceman is primed and eager for the chance to challenge for an NHL roster spot in the future.
"I want to play in the NHL. That's my goal now and I hope I can achieve it."
Ticket memberships for the 2022-23 Manitoba Moose season are available now. Visit MooseHockey.com/PACKAGES for more information.