Manitoba Moose Ticket Package Options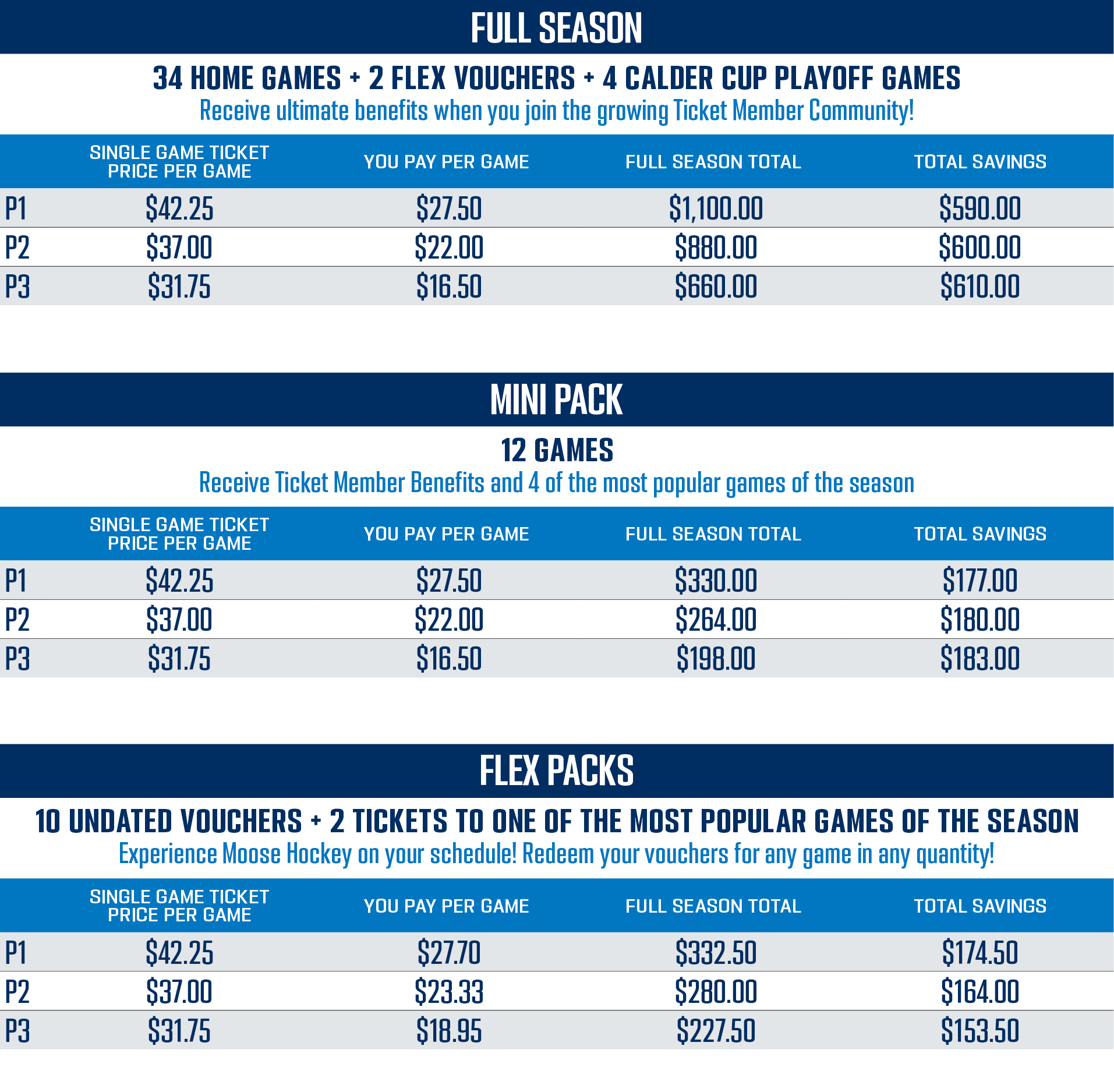 TICKET MEMBER BENEFITS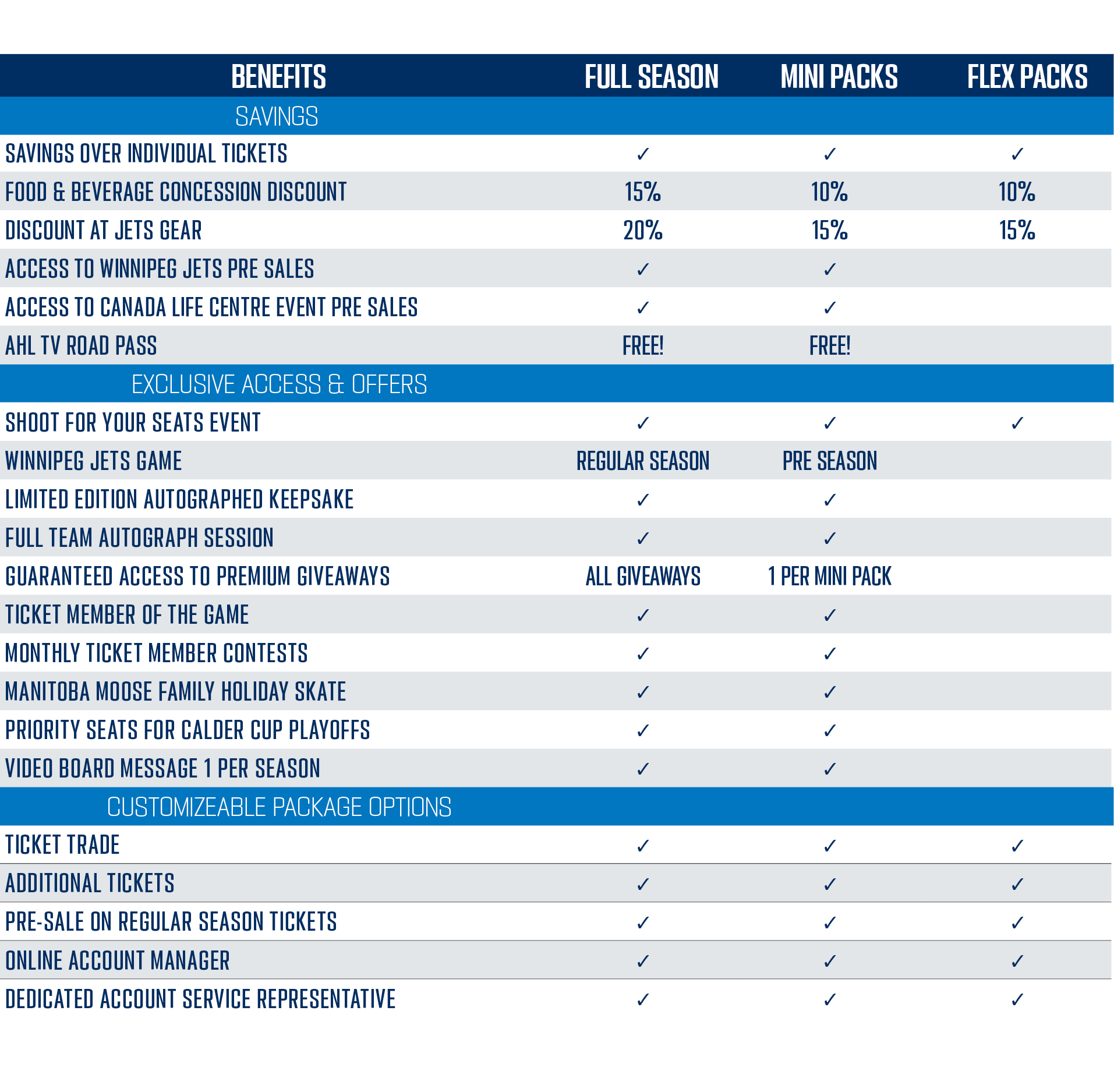 Save up to $13.25 per seat, per game, compared to single game tickets.
Receive up to 20% discount on all regular priced items at all Jets Gear locations (Canada Life Centre, Polo Park, St. Vital and Kildonan Place).
AHLTV ROAD PASS
Follow along with the team on the road with a complimentary AHLTV Road Pass
ACCESS TO WINNIPEG JETS PRE SALES
ACCESS TO CANADA LIFE CENTRE EVENT PRE SALES

COMPLIMENTARY TICKETS TO A WINNIPEG JETS GAME
Full Season Ticket Members receive tickets to a Winnipeg Jets Regular Season home game. Mini Pack Members receive tickets to a Winnipeg Jets Pre-Season game
LIMITED EDITION AUTOGRAPHED KEEPSAKE
A unique item only available for Manitoba Moose Ticket Members. One item per account.
FULL TEAM AUTOGRAPH SESSION
An exclusive post-game event for Ticket Members only
GUARANTEED ACCESS TO PREMIUM GIVEAWAYS
Guarantee you receive premium giveaway items, even when you can't arrive early.
MANITOBA MOOSE TICKET MEMBER OF THE GAME
At each Manitoba Moose home game, one Moose Ticket Member is recognized at the game and featured on the scoreboard. Each Ticket Member of the Game receives a special Manitoba Moose gift package in appreciation of their support!
MANITOBA MOOSE FAMILY SKATE AT CANADA LIFE CENTRE
Guaranteed access for you and your family to participate in the Manitoba Moose Family Holiday Skate at Canada Life Centre during the holidays.
MONTHLY TICKET MEMBER CONTESTS
Exclusive contests for limited edition team items, exciting opportunities and more!
COMPLIMENTARY VIDEO BOARD MESSAGE
PRIORITY ACCESS TO CALDER CUP PLAYOFF TICKETS

TICKET TRADE
Can't attend a Moose game? No problem! Never waste a ticket – log in to your Manitoba Moose Account and use our convenient Ticket Trade option which allows you to transfer tickets from a game you can't attend, to a future game.
PURCHASE ADDITIONAL TICKETS AT PACKAGE PRICE
All Manitoba Moose Ticket Members can purchase additional individual Manitoba Moose tickets at package prices (a savings of over $13.25 per ticket). This allows you to further customize your ticket membership by purchasing additional tickets to games that are not included in your package or tickets to popular games, including all Prime Package and Promotional Games.
PRE SALE OPPORTUNITY
All Manitoba Moose Ticket Members will be provided with an exclusive pre-sale opportunity to purchase individual Moose game tickets before the general public.
MANAGE YOUR TICKETS ONLINE
Can't attend a game but want to ensure your seats go to good use? Log in to your Manitoba Moose Account to conveniently forward your tickets electronically to any email address or donate your tickets and provide an opportunity for children who participate in the Winnipeg Jets Hockey Academy to attend a Manitoba Moose game.
DEDICATED ACCOUNT SERVICE REPRESENTATIVE
ARE YOU INTERESTED IN BECOMING A NEW TICKET MEMBER?
If you would like additional information about becoming a Moose Ticket Member please fill out the below form.
For more information about becoming a Manitoba Moose Ticket Member or questions about your current ticket package contact service@moosehockey.com