Polei Confident After Career Year
By: Anthony Fusco | Published: August 15th 2022
There isn't much that intimidates Evan Polei. The forward, who has 182 games of AHL experience and 316 penalty minutes under his belt, is a rugged, team-first type of player. Polei isn't afraid to play a rough and tumble style of hockey, which occasionally means throwing your weight around or sticking up for your teammates. Beyond the toughness, there also lies a fair amount of skill that Polei tapped into in a big way over the course of the 2021-22 Manitoba Moose season.
Reaching New Heights 
Polei had spent the last few seasons playing in the AHL with Bakersfield, San Antonio and Cleveland, but when he received the offer to come back north of the border, the forward jumped at the chance. Polei and the Moose turned out to be a wonderful pairing, as the forward's hard-nosed and dependable style paid instant dividends for the 21-22 iteration of the Moose.
The forward came into the season with a previous career-high of 20 points (9G, 11A) which he tallied over the course of 53 games with the Bakersfield Condors in the 2018-19 season. Buoyed by an increase in confidence and playing on a possession-driving line, Polei was able to set new career high numbers and put together a campaign with 23 points (11G, 12A) in 62 games. He also notched a pair of game-winning tallies and put together a plus-eight rating, which are both good for career-best numbers.
EVAN POLEI WITH THE OT WINNER🥳 pic.twitter.com/F1kBTxNeU3

— Manitoba Moose (@ManitobaMoose) January 22, 2022
Polei's season also saw him record his second career three-point contest in a 7-2 victory over the Rockford IceHogs in March. The forward scored once and added two assists. It would be the second of five multi-point games that Polei would record over the course of his season. Polei would add another highlight to his resume by scoring his first career professional overtime winner in a 4-3 home win over the Chicago Wolves on January 22, 2022.
"It was just a good feeling," reminisced Polei.  "I haven't scored in overtime since probably the Memorial Cup when I played in junior. I don't get too much overtime ice time. It was a good play, I got a nice breakout pass and I used my speed to cut to the net and put the puck in the back of the net. The funny thing is the guy I beat to the net was my old linemate in Bakersfield and the goalie that was in net was also the goalie from Bakersfield."
The Wetaskiwin, Alberta, product placed high expectations upon himself coming into his first season in antlers. The taste of success left the forward hungering for more as the summer rolled around.
"I wouldn't have done it without those two guys (Nicholas Jones and Cole Maier). I think I chiseled a couple of points from Maier here and there," said Polei with a grin. "We played well together, just a grindy kind of line. The boys have some skill, we can put the puck in the back of the net. We can skate well and we just make it hard to play against us for every other team. I've had a lot of guys this summer come up to me and say that our line in playoffs was a force to be reckoned with. Guys on Milwaukee said our line was the hardest to play against. All three of us are really good players and we just came well together."
Instant Chemistry
Halfway through the year, Moose Head Coach Mark Morrison and his coaching staff were looking at shaking up some of the squads lines. They were in the process of searching for a combo that could drive play as well as shut down their opposition and chip in some occasional offence. With those goals clearly defined, the trio of  Maier, Jones and Polei was meshed together.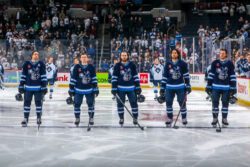 The line clicked instantly and remained together for the rest of the regular season and playoffs. The trio was dominant and their combined success led to each individual player putting together a career-best season. Maier ended with 37 points (17G, 20A) in 68 games, while Jones put together a stat line of 34 points (12G, 22A) in 60 games.
The line was able to do whatever was needed on the ice at that time, whether it was killing their opponents momentum or going on the offensive to create scoring chances. Polei knew there was something special about the trio and why they meshed together to be so effective.
"They're both great hockey players and they have a bright future ahead of them," noted Polei during his end of season media availability. "I think we just meshed well together because we were hard-nosed players. We know our role out on the ice and we just go out there every night and did it."
Season Two in Antlers
With a season of solid hockey under his belt, Polei is now in the midst of preparing himself for the fall and his second campaign with the Moose. The bruising forward has big plans and an eye on the future as looks to push himself and his Moose teammates to the next level. Polei believes that he's at his most effective when he's keeping the members of the Moose loose but focused over the course of the game.
"I like having a good time on the bench," noted Polei.  "I play my best when I kinda take my mind away from happened earlier and you just move on to the next shift. I try to laugh a bunch with the guys on the bench. I try to keep them loose, keep them going." After a career 2021-22 season, Polei and the Moose aim to continue improving and find the gear that will bring success in the upcoming campaign.
Ticket memberships for the 2022-23 Manitoba Moose season are available now. Visit MooseHockey.com/PACKAGES for more information.