Reflecting on 2016-17
By: Mitch Peacock | Published: May 4th 2017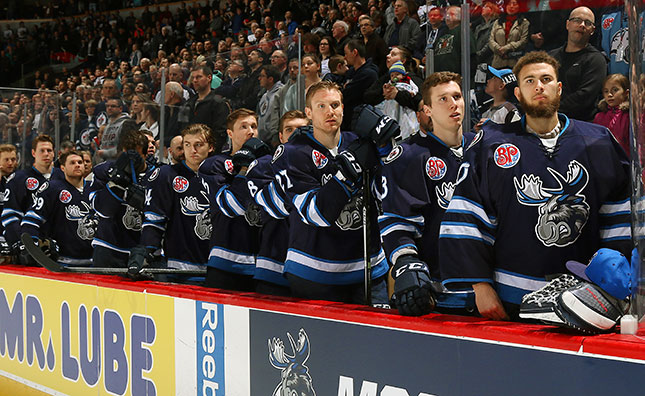 MOOSE TRACKS BLOG – Season Wrap
The Moose won more games, earned more points, scored more goals and allowed fewer against than the team's first year back in Winnipeg last season.   Their power play was more productive, and a dozen players wore both Moose and Jets' uniforms over the course of the 2016-17 season.
However, they didn't make the playoffs and that had the coaches and players saying the recently completed AHL season was a mix of progress and room to grow.
HIGHS AND LOWS
From five straight home wins back in the fall, to taking seven of a possible eight points on their final games at MTS Centre this season, the Moose had several notable spells of success in 2016-17.  When the calendar turned to 2017 the team was above .500 and very much in the mix for a playoff spot.
A tendency to suffer brief lapses in games led to costly losses.  While there was plenty of individual growth, the post-season push faded with the growing pains.
From the start, Head Coach Pascal Vincent talked about the dual goals of grooming pros and winning games.  When all was said and done, he expressed confidence the organization is right on track.
"At the end of the day, our job is to help the Winnipeg Jets win some hockey games, and prepare the guys. There's going to be a time, I believe, that we're going to be able to put the pieces of the puzzle together where developing and winning will come together and we're getting there."
PERSPECTIVE
There aren't many players more competitive than Moose centre Patrice Cormier.  This past season marked his first as a captain at the American Hockey League level.  It was an adjustment for the seventh year pro, but just as many of the younger guys grew their games, Cormier built a strong leadership approach on and off the ice.
Make no mistake, the New Brunswick native is quick to say missing the playoffs hurts, but his appreciation for the process the club is involved in shines through.
"It would have been nice to win more games, but like I said, we go into the summer – we learned a lot. There were some good things and hopefully we come back, most of us, in September and build something good."
GROWTH
There's plenty to feel upbeat about when it comes to the Moose and its role as a pipeline to the Jets.  From Kevin Czuczman's emergence logging key minutes, to Chase De Leo's versatility up front, to the all-around growth of prospects like Kyle Connor, Jack Roslovic, and Eric Comrie; the future is bright for the Moose and their NHL affiliate.
Roslovic, Manitoba's scoring-leader, is a particular example.  His rookie season started with simply trying to find out if he could play professionally at 19-years old.  Now, after an all-star season that included his NHL debut, pushing for a roster spot in October seems like a very distant concern.
"The whole idea was to see if I could develop more than going for another year of college, and for another couple years of college, and you know I think we succeeded in that," said Roslovic at the team's final media availability. "Being able to do that in the first year of pro was really nice."
Fellow 2015 Jets' first-rounder Kyle Connor also got his first taste of pro hockey life and seized the opportunity to enhance his game during a 52-game stay with the Moose.  Connor's 25 goals included 17 in his last 20 AHL outings, and had him feeling positive going into the off-season.
"It was an adjustment coming from college to the NHL, and also going from the NHL to the AHL," admitted the former University of Michigan star. "(I) just did a lot of video, and just studied my game, and yeah, I thought I definitely learned and translated that into the second half."
FINAL THOUGHT
Sophomore pro Eric Comrie was Manitoba's rock in goal, making a career-high 51 appearances, including a career-best three shutouts.  The last of those goose eggs came in Cleveland in the final outing of the season, a 1-0 win over the reigning League champions. The Moose victory went a long way towards keeping the Monsters out of the playoffs.
It was an impressive team effort, and one that shows the Jets' affiliate has a foundation to build on when things start up again in the fall.
"We never quit. We always had that mentality, never quit," said Comrie on the day Moose players did their exit medical exams. "(We) just play our game, (and) have the right mindset. Some games are not always going to go your way, but if we have the right mindset and play the way that we can play it's going to be a challenging game (for any opponent)."
As the Moose enter year three back in Winnipeg, that sound approach is a reason to look forward to what's to come as the process continues.