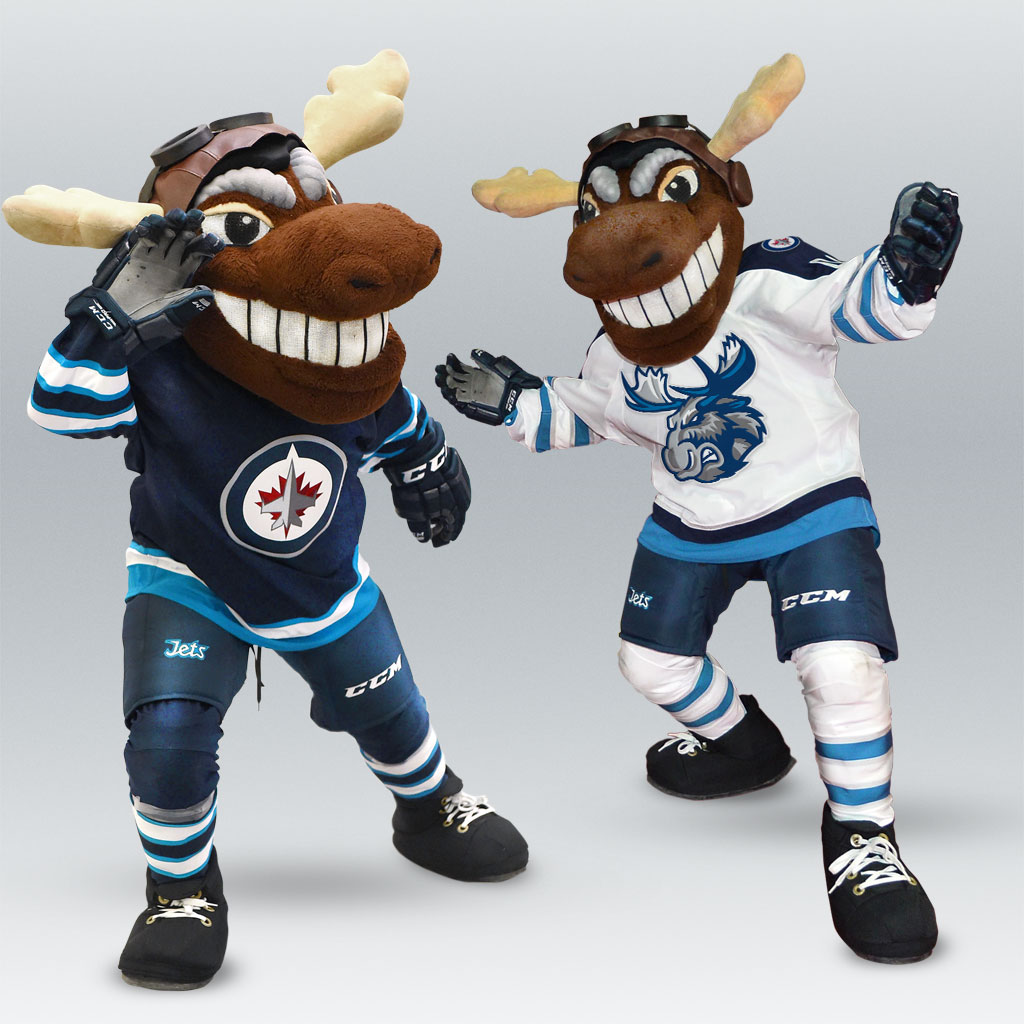 POSITION: MASCOT
NUMBER: 00
HEIGHT: 6′ 2″
WEIGHT: 250 lbs.
SHOOTS: AMBIDEXTROUS
BORN: 1 JANUARY 1993
BIRTHPLACE: SANDILANDS, MB, CANADA
Born in Sandilands, Manitoba, Mick E. Moose began his professional mascot career at a very young age. As a young three-year-old yearling (young moose), Mick signed on with the newly formed Manitoba Moose, then playing with the International Hockey League (IHL) at the Winnipeg Arena.
Mick E. Moose worked tirelessly for fifteen seasons with the Manitoba Moose as they earned the love and respect of Manitoba hockey fans. From IHL to AHL, the hockey teams changed over time, and moved to a new downtown arena, but Mick continued to pump up the crowds and excite young fans each season.
Mick E. Moose got the call he had long waited for on October 7, 2011 when he was called up to the NHL to represent the newly moved Winnipeg Jets as the official team mascot. Then, on April 5th, 2015 he received the exciting news that his beloved Manitoba Moose were relocating back to Winnipeg, MB for the beginning of the 2015-16 hockey season. Not long after that it was formally announced on his twitter account that he would perform double duty at both Jets and Moose games.
What were your favourite foods growing up? What was dinner like around your family table?
Being a herbivore, I mostly ate salads, greens and fruit. Moose generally have to eat a lot of food to maintain our body weight, so I am constantly eating. Mother would often find a nice pond or marsh, and we would sit there for hours, snacking in the sunshine.
What is your favourite recipe to cook at home?
I mostly eat salads, but I always like to spice things up by throwing in some wild berries and nuts that I find out in the wild. Blueberries are my favourite.
What foods do you eat before a game to get you pumped up?
I need to stay hydrated, so I drink plenty of water before a game. It's important to eat a meal with a lot of nutrients, so I like to eat big salad of greens, with a lot of nuts and fruit mixed in to give me those extra nutrients.
It's not hard to get pumped up for a game. Just thinking about stepping out in front of 15,000 hockey fans makes my skin tingle. My job itself is enough to get me pumped up for a game.
How else do you prepare before heading out on to the ice in front of thousands of fans? Ever get nervous?
Because of the amount of walking, dancing and high-fiving I do on a game day, I need to be very loose and limber. Normally I do my stretches and warm-ups for about an hour prior to game time. Then I throw on my jersey and meet the fans!
I am nervous before every single game, but I use that nervousness to fuel my energy. I just remind myself, "You have the best job in the world" and it helps me focus on what I need to do.
Where's your favourite Manitoba hot-spot to hang out with your friends?
I always enjoy heading back home to Sandilands Provincial Forest. There is so much forest, wetlands and sand hills to roam around in, I never get bored, and it's always good to be home!
If you weren't a mascot, what would you be doing?
I was born to be a mascot. I have never really ever considered a different career, because I have known for as long as I can remember that I would be a mascot. It's the best job in the world, and without it, I would be lost.
If you could trade places with any other mascot, in any other sport, who would it be and why?
I wouldn't trade my place for anything in the world. I get to be the mascot for the best team, in the best league, in my home province, with the best fans in the world. There is nowhere else I would rather be.
To request an appearance by Mick E. Moose at your event, please fill out the Mascot Appearance Request Form here.