Are you interested partnering your brand with the Manitoba Moose?
Professional Sports has become one of the most valuable forms of advertising available today. Corporations are spending millions of dollars to have their brand aligned with a professional sports league or franchise. Sports marketing can help you reach your target market effectively without getting lost in all of the clutter of traditional advertising. Sports fans are educated, affluent, and incredibly loyal.
Our corporate partnership team can customize a sponsorship package that will meet your company's needs and objectives. True North Sports + Entertainment offers a variety of advertising opportunities. Options include rinkboard advertising, customized visual messaging displayed through our center hung Scoreboard and 360 Power Ring LED as well as print and digital offerings. We can provide your company with some of the most innovative and engaging methods to display brand during a Manitoba Moose game. Promotions are customized to interact with our fans to ensure that your brand and/or product is well represented to meet your needs and exceed your expectations.
If you would like more information on Manitoba Moose sponsorship opportunities, please contact: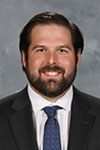 Hart Jacob
Manager, Corporate Partnerships
204-926-5907
Email Hart