Combine Q & A with Jack Roslovic
By: Mitch Peacock | Published: June 1st 2017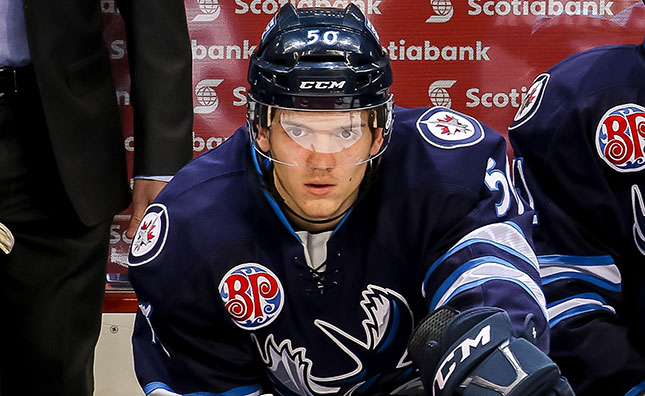 NHL teams, and top-ranked prospects, are in Buffalo this week for the NHL Scouting Combine at HarbourCenter.
It's one more chance for young players to make an impression on clubs' management, and an opportunity for NHL decision makers to round out their files on the elite players from this year's draft class.
A JETS' PROSPECT PERSPECTIVE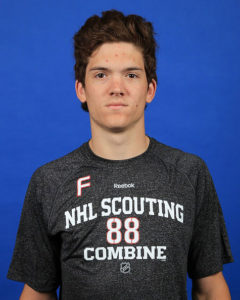 Moose scoring champ, and AHL All-Star, Jack Roslovic knows all about the process.  He went through the combine in 2015.
On draft day, Roslovic went from first-round hopeful to 25th overall pick when the Jets called his name.
Prior to walking up to the stage, the slick centre out of Columbus, OH wasn't sure he'd end up in Winnipeg after meeting with the team at the Scouting Combine weeks before.
Moose Tracks caught up with Roslovic by phone from his Ohio home for the inside story.
JACK ROSLOVIC – NHL SCOUTING COMBINE EXPERIENCE
MP: Alright Jack, we're looking back a couple of years for you now to the point where you were heading into the NHL Scouting Combine experience.  What do you remember thinking at that point?
JR: I just remember wanting to go a higher pick than I was projected and I would do anything that I could. So I wanted to go there and work my hardest and show teams what I got.
MP: It's interesting, the NHL Scouting Combine is made up of a couple of parts. There's the physical testing and there's the opportunity to meet with teams. Where you more nervous about one part over another?
JR: I really wasn't too nervous. I'd talked to a lot of teams during the season, and being able to do that – it took some of the nerves away.
MP: In terms of the physical testing part, did you want to make an impression? Did you feel there was an opportunity there to show something: Or, was it just a matter of going in and demonstrating that you had good habits to prepare yourself physically for whatever comes down the line?
JR: Yeah, well I know that I'm one of the more fit guys in my age group. You know, after the testing – once again I really wasn't that scared going in – I knew I'd put a lot of effort in and being able to go there and show it was a good opportunity.
MP: In terms of meeting with teams, how many teams did you meet with and did you find that process demanding?
JR: The process was really fun. Being able to go in there and kind of get feedback from the season and learn about some new organizations, it was just a good time and I just tried to soak it all in.
MP: Now for you being a guy who was ranked 39th by Central Scouting, in North America, but also a guy who was considered to have the potential to go in the first round – did you see this as an opportunity to try and improve your overall position heading toward the draft?
JR: Yeah, being a "bubble guy" in all the rankings, it didn't look too realistic that I was going to go first round, but you know I think the teams kind of met me and learned what I was about and saw me at the combine and put it all together and I think they made the right decision.
MP: You had an opportunity to meet with more than 20 teams and, of course, one of those was the Winnipeg Jets. What do you remember from that opportunity to meet with the organization?
JR: When I went in and met with every organization – it's the NHL so it's the best in the business – and you know, once again, I really was just trying to go there and learn and make a foot mark.
MP: When it comes to meeting up with the Jets' staff though, in particular, what do you remember about that exchange? I understand it was a little bit of a different audience than some of your other meetings.
JR: A lot of people in the room on that one, more than other teams had, and it was kind of an intimidating environment at the beginning. Then, you kind of broke into them and there are a lot of good guys in that organization and a lot of smart people.
MP: But as I understand because of how demanding the environment was, and the timing of your interview, where it was later in the day for you … that maybe you came away from your chat with the Jets not entirely confident that they were going to be the team that chose you.
JR: Yeah, I wasn't that confident. One of the guys had told me (at the end of the interview) that I needed to speak up and I was just a little tired at the end of the day and it's kind of funny how that worked (out).
MP: Looking back on it now, where do you see the Combine in the whole experience leading up to draft day?
JR: The combine, you know, every team takes it in their own way. Some teams take it a lot … really serious. Some teams look at the season and how that went. So, I think it's definitely a good thing to do well there and being able to make a good first impression with organizations.
The NHL Scouting Combine is currently under way in Buffalo, NY at HarborCenter.  Visit winnipegjets.com for more from the annual evaluation week and the lead-up to the 2017 NHL Draft in Chicago.
Photos: Jonathon Kozub, Bill Wippert (Getty Images 475789880 and 476080240)