PREVIEW: Hungry for the Wolves
By: Colin Peterson | Published: March 10th 2018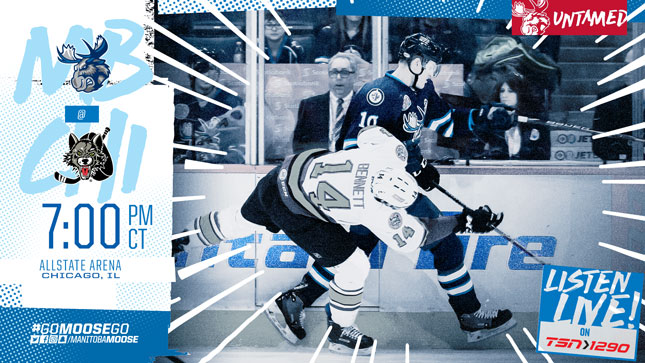 The Manitoba Moose (35-16-4-4) will try to fend off the second-place Chicago Wolves (32-18-6-2) tonight at Allstate Arena. The Moose have a 4-1-1-0 record over Chicago this season, but the Wolves are coming in to today's contest with wins in seven of their last eight games. That lone Chicago loss came at Bell MTS Place on Feb. 24 in a 2-0 Eric Comrie shutout. Chicago won the rematch 5-2 the following day. You can catch tonight's game on TSN 1290 and moosehockey.com/listenlive/ with puck drop at 7 p.m. (CT).
EVERY DAY WE'RE SHUFFLING
It didn't take long for the Moose goaltending situation to flip again.  Michael Hutchinson was recalled by the Winnipeg Jets and Jamie Phillips was reassigned to the Moose a day after Phillips had been assigned to Jacksonville.  Phillips has made nine appearances for the Moose this season, including six straight starts, posting a 3-4-1 record with a 2.69 GAA and a 0.924 SV%.  The Jets also announced today, the team has recalled defender Tucker Poolman from the Moose.
PETAN ROLLING ON THE ROAD
Forward Nic Petan has recorded a point in each of his last 12 road games.  Since Nov. 28, Petan has racked up 18 points (7G, 11A) in those 12 games.  The streak is now the longest road point streak in the AHL this season.  Petan is tied for third on the Moose with 42 points (12G, 30A) in 42 games.  He also has two goals in 15 games with the Winnipeg Jets.
LIPON DANGEROUS IN ENEMY TERRITORY
JC Lipon has been a player to look out for when the Moose are away from the friendly confines of Bell MTS Place.  The Regina, SK native scored his 10th road goal of the season on Wednesday and is third on the Moose when it comes to lighting the lamp on the road.  Lipon has scored all but one of his 11 goals this season in unfriendly surroundings.  He's just two goals shy of matching a career high.
OFFENSIVE THREAT FROM THE DEFENCE
Rookie defender Sami Niku keeps on rolling offensively.  The Haapavesi, Finland product has 14 points (4G, 10A) in his last 15 games.  He led the Moose in scoring in February with 10 points (2G, 8A) in 12 games and is tied for the team lead with four points (2G, 2A) in the first three games of March.  Niku leads all AHL defenders with 42 points (12G, 30A) in 59 games.
MORE HISTORY FOR PATRICE
Moose captain Patrice Cormier has assists in two of his last three games.  Those helpers have Cormier on the brink of another milestone in a season filled with them.  Cormier's next assist will be the 100th of his AHL career.  Cormier's next point will also give him the most points all-time of any centre in franchise history with 190 points.
WHAT'S NEXT?
The Moose will continue their seven-game road trip tomorrow, with a stop in Iowa. You can catch the 3 p.m. (CT) puck drop on TSN 1290 or moosehockey.com/listenlive/.