Game Recap: Moose 2 at Bakersfield 1 OT
By: Daniel Fink | Published: November 5th 2017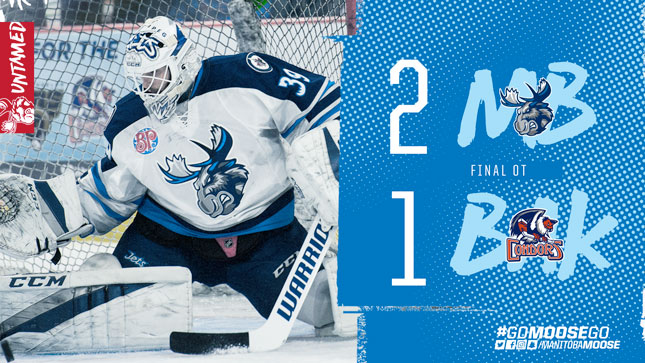 Manitoba Moose (6-4-1-1) at Bakersfield Condors (5-4-1-0)
Saturday, November 4, 2017 – Rabobank Arena, Bakersfield, CA
| | | | | | |
| --- | --- | --- | --- | --- | --- |
| Scoring Summary | 1 | 2 | 3 | OT | F |
| Manitoba Moose | 0 | 1 | 0 | 1 | 2 |
| Bakersfield Condors | 1 | 0 | 0 | 0 | 1 |
| | | | | | |
| --- | --- | --- | --- | --- | --- |
| Shots By Period | 1 | 2 | 3 | OT | F |
| Manitoba Moose | 10 | 11 | 13 | 1 | 35 |
| Bakersfield Condors | 8 | 13 | 10 | 1 | 32 |
| | | | |
| --- | --- | --- | --- |
| Special Teams | PP | PK | PIM |
| Manitoba Moose | 0/2 | 3/3 | 8 |
| Bakersfield Condors | 0/3 | 2/2 | 6 |
| | | | | |
| --- | --- | --- | --- | --- |
| Goaltender Summary | Goaltender | MIN | SA | SV |
| Manitoba Moose | Michael Hutchinson | 61:42 | 32 | 31 |
| Bakersfield Condors | Nick Ellis | 61:42 | 35 | 33 |
Goal Summary
| | | | | | | | |
| --- | --- | --- | --- | --- | --- | --- | --- |
| P | TIME | TEAM | GOAL | ASSIST | ASSIST | STR | SCORE |
| 1 | 11:17 | BAK | Ty Rattie (6) | Grayson Downing (2) | Caleb Jones (3) | ES | 1-0 BAK |
| 2 | 15:43 | MB | Cam Maclise (2) | Mike Sgarbossa (7) | Peter Stoykewych (3) | ES | 1-1 |
| OT | 1:42 | MB | Cameron Schilling (2) | Nic Petan (3) | Jack Roslovic (6) | 3/3 | 2-1 MB |

Game Story
The Manitoba Moose (6-4-1-1) and Bakersfield Condors (5-4-1-0) met up for the second time in four nights on Saturday in Bakersfield.  The Moose had the best early look when Jansen Harkins rang a shot off the crossbar in the opening minute. The Condors opened the scoring 11:17 into the first, courtesy of Ty Rattie, who waited out a Moose defender and Michael Hutchinson to find the back of the net.  Manitoba went back on the offensive late in the frame with a power play, but despite some good looks, the Moose couldn't pull even and went to the intermission down 1-0.
The second frame followed a similar script to the first.  The Moose got a good look while shorthanded, but Peter Stoykewych's shot hit the post.  Manitoba's penalty kill got some work in the frame, shutting down a pair of penalties, with a third carrying over into the final frame.  The Moose did get back on even footing with the Condors with a late period goal.  After Stoykewych freed up the puck, Mike Sgarbossa put a cross-ice pass to Cam Maclise who ripped a one-timer past Nick Ellis to tie the game with 4:17 left in the period.  The closely contested game went to the third with the teams tied on the shot clock, 21-21, and on the scoreboard, 1-1.
Hutchinson did his part early in the period to help the Moose through the 1:19 of penalty time remaining from the second period.  The Manitoba goaltender went post-to-post to take away a Condors scoring chance.  The best Moose opportunity in the period came off the stick of Jack Roslovic on a sharp angle, but his offering was the third Moose shot to ring off the post on the evening.  Despite plenty of chances, and 23 combined shots, the teams couldn't decide a winner in regulation.  Overtime only took 1:42 to sort things out.  Nic Petan and Jack Roslovic broke up ice on a partial two-on-one, but Petan elected to drop to the trailer on the play, Cameron Schilling, who blasted the winner by Ellis to send the Moose to a 2-1 win.
Quick Hits
Michael Hutchinson is 3-0-0 on the road with a 1.65 GAA and 0.948 SV%.
Mike Sgarbossa has recorded a point in nine of twelve games this season.
Tonight's win was Manitoba's first overtime/shootout win of the season.
Attendance was announced at 6,135.
What's Next?
The Moose roll back to Stockton to take on the Heat on Wednesday.  Catch the game on TSN 1290 and moosehockey.com/listenlive starting at 8:45 p.m. CT.