Improvement Defined 2022-23 Moose Season
By: Anthony Fusco | Published: May 17th 2023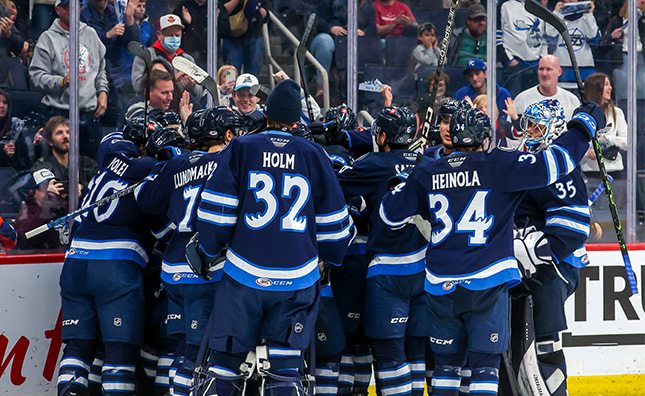 "It hasn't really settled in yet. It's really frustrating, two years in a row being in the same scenario," remarked Manitoba Moose Captain Jimmy Oligny during his year-end media availability. "Especially this year, we had the momentum, and not being able to close them out hurts even more. It's going to sink in at one point, so we just have to review what went wrong and try not to do it next year."
For the second year in a row, the Moose battled with the Milwaukee Admirals to a decisive game in the Central Division Semifinals. The two sides were intimately familiar with each other. By the time Game 5 of the series rolled around, the clubs battled 30 total times over the past two years. Manitoba eventually fell by a score of 2-1 after the Admirals capitalized on an opportunity with under a minute to go. It's a tough pill to swallow, but one that will be used as a teachable moment for head coach Mark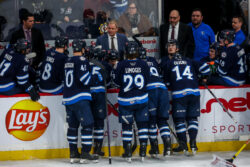 Morrison.
"Every second counts," observed Morrison. "The details really count. Faceoffs, the blue line where the puck is won or lost in battles. All those little things come into such a huge play. I would say that what they (the players) would take out of this is every play, every shift, every second of every shift counts."
Despite the team bowing out in the second round of the Calder Cup Playoffs, the 2022-23 iteration of the Moose put together a successful year on the ice, in the community and into the overall development of the players and staff.
The Moose notched 37 total wins and finished third in the Central Division. It also marked the third consecutive season that Manitoba has finished third or better overall in their division. Special teams also played a factor, with the Moose ending the regular season with a power play and penalty kill ranked within the top-10 in the league. The power play clicked at 22.7 percent, a franchise record. Meanwhile, the penalty kill registered at 82.2 percent and posted seven shorthanded goals.
Manitoba received key contributions from all over the roster. Alex Limoges, who skated in his first season with the Moose, hit the 20-goal plateau for the second straight season and led the team in scoring with a career-high 54 points. Jansen Harkins was a dominant force and paced Manitoba with 25 goals and finished seventh in the AHL in points per game (30+ games). Defenceman Declan Chisholm notched a career-high 43 points and was named Manitoba's representative at the AHL's 2023 All-Star Classic, while Dominic Toninato potted 19 goals and 35 points, both of which are career-highs, while assuming top line centre duties for much of the season.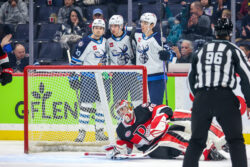 Young Jets prospects also took centre stage, as Henri Nikkanen and Daniel Torgersson played their first full seasons in North America. Nikkanen, Winnipeg's fourth round pick in 2019, tallied five goals and 16 points over the season. The Finnish centre frequently settled in for key draws throughout the season and was deployed extensively on the penalty kill. Torgersson, a second round pick in 2020, scored 11 goals while leading Moose rookies with 20 points. The Hono, Sweden product also added a goal in the playoffs.
"(Henri and I) compliment each other well," observed Torgersson when speaking to reporters at his year-end media session. "We both like to play hard and use our strengths. When you play together for a lot of the season, you really start to learn about the other guy and what he likes and dislikes, so that makes it easier."
Another case of improvement was seen between the pipes with netminder Oskari Salminen. The Kotka, Finland product ended the regular season with an 18-13-6 record along with a 3.06 goals-against average and an .896 save percentage. He also posted a pair of shutouts. Salminen was then called upon to suit up in the final four games of the Moose playoff series against Milwaukee. The goaltender put together a 2-2 record, 2.25 goals-against average and a .923 save percentage over the quartet of games.
"I feel like I'm that much better of a goalie after this year. I really improved on a lot of things," Salminen said following the campaign. The netminder also credited a late-season call up to the Jets for the boost of confidence, "I think that it helped a lot. Mentally, getting the feeling that you got called up and knowing that you're good for it."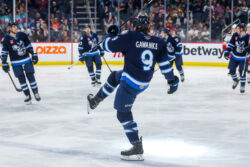 Leon Gawanke's scoring prowess from the blueline drew plenty of focus. The Berlin, Germany native scored his 18th goal of the season on April 11, breaking Brett Hauer's franchise single-season record of 17 goals from a defenceman. Gawanke ended the season with 20 total goals, which doubled his output from 2021-22 and tied him with Lucas Carlsson for the most goals scored in the AHL by a defenceman this season.
Winning games and developing the next wave of Winnipeg Jets prospects is paramount to the clubs mandate, and coach Morrison was happy with how the campaign went in that regard.
"For me, the whole season with this group was good. I would say it is better than good. I thought that players improved, the group improved. We just weren't able to get to the next level there. As far as the season went, I would say that it was a successful season, as far as wins and losses went along with player improvement."
Off the ice, captain Jimmy Oligny took home the league's Yanick Dupré Memorial Award, which has been presented annually since 1998 to an AHL player for his outstanding contributions to his local community and charitable organizations. Oligny, who spent much of the season rehabbing from a severe knee injury, thrust himself into community work and created a unique program in conjunction with the Kinship and Foster Family Network of Manitoba, a non-profit organization that provides kinship, adoptive and foster parents with training, guidance and assistance to enhance the quality of life for children in their care. As part of the program, Oligny hosted a foster family at Moose home games and met with them after the contest concluded. Winning the Yanick Dupré Memorial Award was a huge honour for Oligny, who found out about the win in a surprise reveal during a team meeting.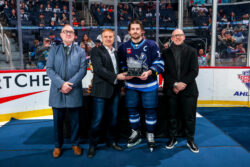 "I thought it was fun. I actually thought it was a video session at first, so it was kind of a surprise," laughed Oligny. "I was super happy that all my teammates were there when they announced it. It was a special moment."
"It's great," echoed Morrison. "I think that after that presentation was made, I don't know if everybody was privy to seeing what went on, there were giant group hugs for him because he deserved it. We can't say enough about him as a man. The award is very telling."
Despite coming off a pair of successful campaigns, Morrison goes into the summer knowing that there is additional work to do in preparation for the 2023-24 season.
"For me, it's all about learning your players," noted the coach. "They're not all treated the same way. It's all about learning them and developing relationships with them so that you know the things they want to hear. Sometimes they have to hear things a different way. It's how you present yourself and present the message to them and I think I learned a lot about that this year compared to our group last year, which was probably a little but more veteran."
With a clear and present goal in mind, Morrison, along with his coaching staff, aim to build another successful AHL season once the puck drops this coming October.