Antlered Alumni: Sven Butenschön
By: Jennifer Redenbach | Published: August 30th 2020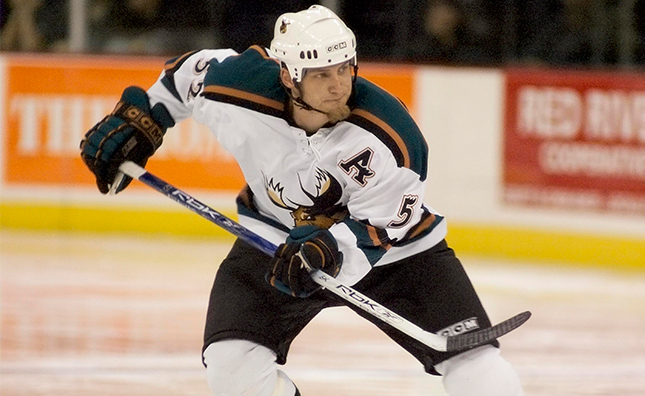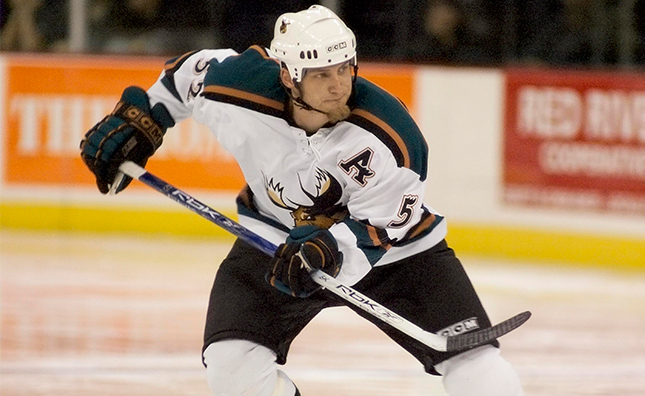 When Sven Butenschön hung up his skates following the 2012-13 campaign, he had yet to choose his next career path. However, after a few months time, his vision and purpose became evident.
"When I left my last pro team in Germany, I left a lot of my equipment there and wasn't sure if I was ever going to need it again or be interested in hockey," said Butenschön. "After about six months you kind of realize how much you miss it and how much it's a part of you. Also, the network you've created, it all goes back to hockey. It's kind of what I know and what I do well. All roads just led to more rinks."
The defenceman was drafted at 18 years old by the Pittsburgh Penguins in the third round (57th overall) in the 1994 NHL Draft. After investing years of heart, time and energy into the game, it was difficult to walk away from.
"You lose all your purpose, structure and a lot of your identity," said Butenschön. "Then you wake up and you have no clue what you're going to do."
Nate Leslie, owner of Leslie Global Sports and Certified Executive Coach, helped give Butenschön an outlet for his knowledge and passion for hockey. Leslie Global Sports is a training program for coaches and athletes who strive to develop their craft on and off the ice. Butenschön served as a lead instructor at Leslie Global Sports from 2013-2015.
"He took me under his wing," said Butenschön. "He helped me network myself and conduct myself in some of those skill sessions early on. He has a really good business mind and entrepreneurial mindset in the hockey world. I learned a lot from Nate."
With a realized passion of studying the game in a leadership role, Butenschön transformed this into a full-time position. Butenschön is currently the head coach of the University of British Columbia Thunderbirds men's hockey program, a position he has held for the past four seasons.
During the 2019-20 campaign, the club concluded the regular season middle of the pack with a 9-14-1 record and placed fifth overall in the Canada West conference. The Thunderbirds took advantage of their playoff spot and shocked everyone with a dominant performance in the post-season.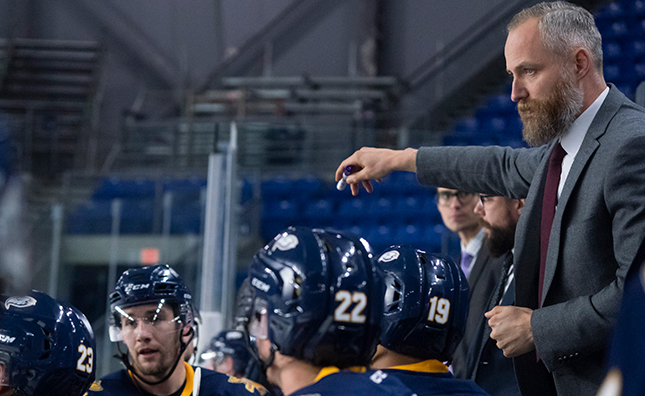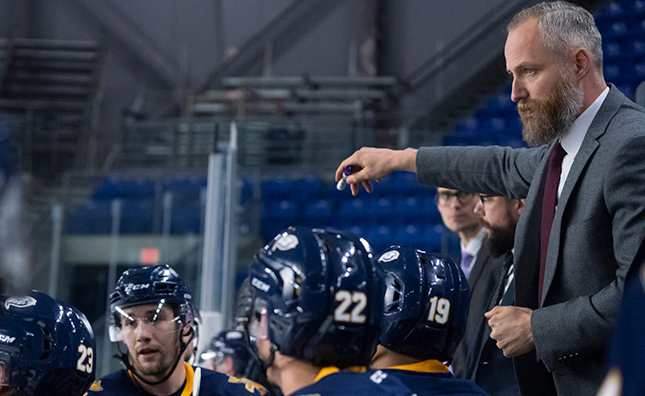 The club claimed a 2-1 series victory against the Mount Royal Cougars in the quarter-finals. Then the Thunderbirds advanced toward the impossible and were set to face the first seed Alberta Golden Bears in the semifinals. UBC stunned and defeated the Golden Bears with another 2-1 series victory. The Thunderbirds went on and competed in the Canada West Championship against the Saskatchewan Huskies. Despite losing the series 2-0, their Canada West Championship final appearance was enough to advance the club to the University Cup. This was only the fourth appearance in the University Cup the club has stamped in program history.
"We got to go to Nationals in Halifax and we were scheduled to play Friday afternoon," Butenschön started. "Thursday night they called us in and cancelled the rest of the tournament. There were already a couple games played on Thursday and we were up next and then they pulled the plug on the National tournament. We were devastated. We had alumni fly out. We had some of the guys girlfriend's surprise them and flew out that day. The school was so pumped up for us… Our season just comes to an abrupt end right there."
"It was gut wrenching," said Butenschön. "We went on this epic playoff run, something that has never been done at UBC."
Butenschön credits his passion for coaching to his younger years as a player. He spent three seasons with the Brandon Wheat Kings where he racked up 69 points (8G, 61A) in 161 career WHL games. The club won the WHL Champion during the 1995-96 campaign.
"Everything I have today is a result of my three years in Brandon," said Butenschön. "They are such pivotal crucial years. You're 17. You move away from home. That's kind of where you build your character and define your character. It's made me the man I am today."
Butenschön was inspired by some of the leadership he received during his time as a player and reminisced about how influential mentorship can be on a young person's playing career and character.
"When I made the Brandon Wheat Kings at 17, the coaching staff saw something in me," said Butenschön."Maybe more as a project but saw some potential there that not many other people did, probably including myself. They took the time, the coaching staff there, with Bob Lowes and Mark Johnston, and they worked with me every day before practice when I was a rookie and helped me with my foot speed, my mobility and my agility. Now that I am able to do that for young hockey players, it is pretty rewarding."
Butenschön suited up for the Moose during the 2005-06 season. Despite only playing for the club for one campaign, the defenceman left his mark on the franchise. He posted 37 points (15G, 22A) in 60 games while also appearing in eight games with Manitoba's NHL counterpart at the time, the Vancouver Canucks. Butenschön's play was recognized league-wide and earned a selection for the AHL All-Star Team that season.
"It was the most fun I think I had as a pro," said Butenschön. "I mean, I grew up in Winnipeg, in Oakbank. Being able to play in your hometown in front of mom, dad, friends and family every night was so cool."
His time with Moose would be the last time he laced up his skates professionally in North America. Butenschön spent seven more seasons on the ice in Germany before calling it a career.
"Enjoy the process," said Butenschön. "It took me a long time in my career to actually have fun and not take every shift, every game so seriously. My play really benefited from that. The first seven or eight years of my career I was so serious and a little bit tight and that did affect my game. Just try to enjoy the process, keep the peaks and valleys to a minimum and think of it as a long haul."