Coach Dubois celebrating son's early career
By: Mitch Peacock | Published: October 19th 2017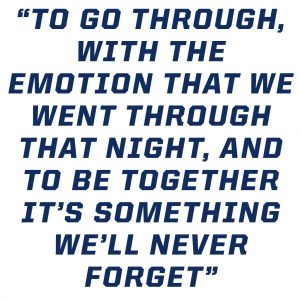 That's how Moose Assistant Coach Eric Dubois described the feeling of sharing in his son's first NHL game, and goal, with his wife Jill and their daughter Daphne.
Eric's son, Pierre-Luc Dubois, took care of both those impressive milestones earlier this month when the rookie suited up for the Columbus Blue Jackets in their home opener against the New York Islanders.
With the assistant coach's demanding job with the Moose, it was a stroke of good fortune that got him to that special night.
The Moose happened to be a few hours away in Grand Rapids, Michigan and although the Jets' affiliate also played that Friday night, Dubois was urged by Moose GM Craig Heisinger to rent a car and go see his boy skate in the world's best league for the first time.
Now, as the schedule would have it, there was room for another Dubois reunion.
HIGH-FIVES ALL AROUND
But first, about that first NHL tally.
If you're lucky enough to have seen the highlight of the impressive shot, you may also have seen the crowd reaction after it.  Right in the middle of it all is Eric Dubois seemingly high-fiving everyone within reach.
While that might be what a lot of parents would do, it's not what you might expect from Eric.
"It's not like me to be very emotional about those things, and to get involved with those people in front of us, but they figured it out in the first period because we got the TV interview that it was our son. So, when he scored they all turned around and gave us some high-fives. So I was, okay I'll give you some high-fives back but it's not my type of…I'm not like that, but it was fun."
DAD FIRST
With the Blue Jackets in town to take on the Jets Tuesday night, the Columbus plane arrived Monday afternoon, setting up a chance for Mom and Dad to get together with their son once again (daughter Daphne is a university student in Quebec).
Fancy dinner out at one of Winnipeg's finest eateries?
Tempting, but not the first choice for Pierre-Luc. Instead it was straight to his parents' place for a home-cooked meal and some quality time.
Now you might think that since Eric was a long-time pro player, and has since built an impressive coaching career, that he was on Pierre-Luc from a young age to make it to the big-time.
Not the case.  In fact, dad's more about being there for his son than he is about tutoring him.
"There's a fine line and I try to be a dad first. I try to listen more than I talk and over the years you start learning what he wants to hear from you," said dad after yesterday's Moose practice at Bell MTS Icpelex. "So, most of the time I'll just be the dad and listen to him and sometimes it's a way for him to express himself – get some frustration out of the way. And, when he wants the coach (part of me) he'll let me know. Or, I'll have a sense that that's what he wants to hear but there's a fine line and I better not cross it. He's got enough pressure, he doesn't need another coach telling him what to do – so I'm first and foremost a dad."
As for mom re: the rare in-season visit?
"My wife was all over him, it's her baby, my daughter is older so I told him it doesn't matter whether you're 40 or 20 you'll always be the baby. It was fun for us to spend quality time with him yesterday – especially for mommy."
GAME NIGHT
After many years of playing and coaching hockey, you might think Eric Dubois would be completely at ease going to watch his son play.
But, that's where you'd be forgetting the dad-first part.
"You're always a little bit nervous because you don't control anything. When you play you control things, but when you're parents and sitting in the stands you don't control anything (laughs). So yes, it is a little bit nerve wracking. You hope he does well, and he's going to have a good game."
Though Pierre-Luc didn't score in Tuesday's matchup between the Jets and Blue Jackets, there was a warning – albeit a good-natured one – issued by Paul Maurice and his staff to the elder Dubois.
"The coaching staff of the Jets gave me a warning yesterday – we'd better not see you celebrating if Columbus scores (tonight). So, I'll stay quiet in my seat. I'll let my wife enjoy those moments more than I do."
I doubt she'll enjoy it any more than dad does, she'll just feel more comfortable letting it show.