Captain's Log – A Series of Fortunate Events
By: Manitoba Moose Staff | Published: May 20th 2019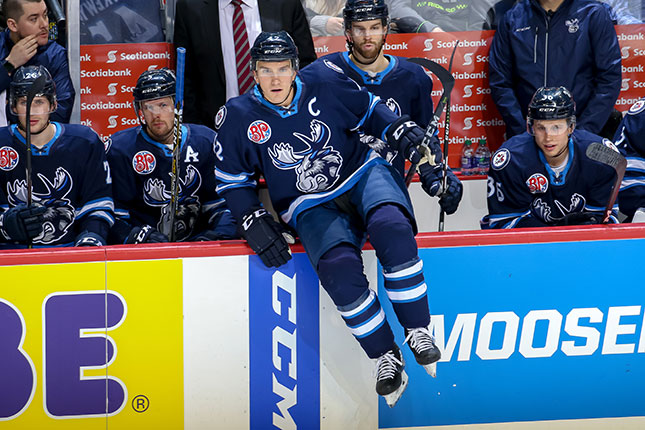 Peter Stoykewych grew up in Winnipeg, went off to Colorado College to play NCAA Division-1 hockey, and returned to Winnipeg to play for the Manitoba Moose.  Stoykewych was named captain of the Moose in October 2018, and is the second Winnipegger to hold the post in franchise history. During the 2018-19 season, the 26-year-old, who started playing at Sir John Franklin C.C., wrote a column in Game On Magazine in order to give readers a first-person insight into the world of pro hockey.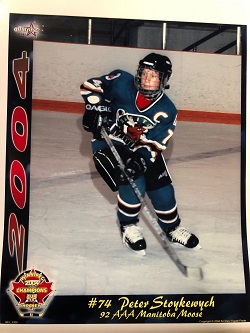 How I ended up playing professional hockey in my hometown is quite the story, much of which needs to be attributed to luck. I grew up like any other Winnipegger, playing hockey outdoors because it's the best thing to do when its minus-30 degrees outside.  Living in the Southwest corner of the city I played in the Assiniboine Park Hockey Association. My minor teams included the Sir John Franklin Raiders, and as I got older, the Rangers, Monarchs, and Wild. By the time I was 15, like many players at that age, I had to make a decision.  I could either play in the WHL, or try to get a scholarship to an NCAA school.
Education has always been important to me; it's something I still pursue to this day. It was because of this passion I decided the NCAA route was best for me. That meant lacing up my skates for the Winnipeg South Blues to try to get a scholarship down south. Fortunately, I received an offer from Colorado College.
That same year, I became a fun fact.  At 199th overall (the same number Tom Brady was drafted… coincidence?), I became the last ever draft pick of the Atlanta Thrashers. This is where I began to get lucky.  That summer, the Atlanta Thrashers became the new era Winnipeg Jets. Although that gave me the possibility of playing for the Jets at home, I still needed to head off to school for four years first.
My time at Colorado College was one I will never forget. If I could give younger players one piece of advice, it would be to explore the college opportunity. I cannot describe how much I loved my time in Colorado Springs. It was also there I met my girlfriend, Carina, who now attends medical school in Edmonton.
Fortunate bounce number two came when I left school. At the conclusion of my senior year, I joined the St. John's IceCaps for the remainder of their season. That summer, they relocated back to Winnipeg to become the Moose.
Perfect.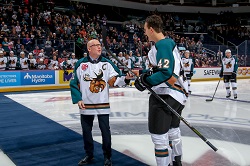 I knew I would be starting my career in the AHL, and what better way than to do it than at home?
Playing pro hockey at home has its perks. My support network of family and friends are nearby all the time. It can be difficult juggling my childhood friends with my teammates, but you'll never hear me complain about that.  I know how fortunate I am to be able to live in my hometown, and play the sport I love. I get the same joy out of it today I did 20 years ago.  It's the same feeling I got playing outside on a brisk minus-30 December morning.