Eric Comrie a lifelong goalie
By: CK | Published: March 15th 2017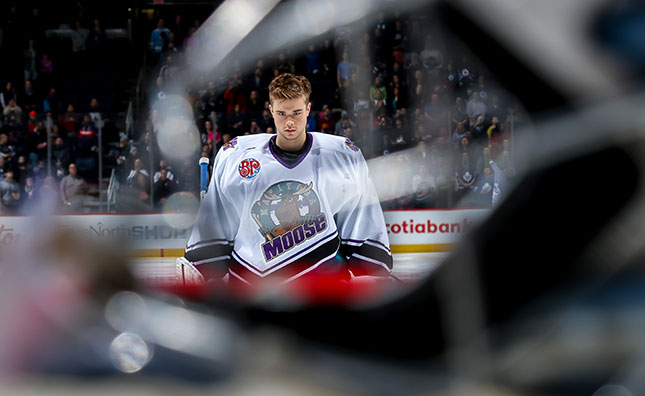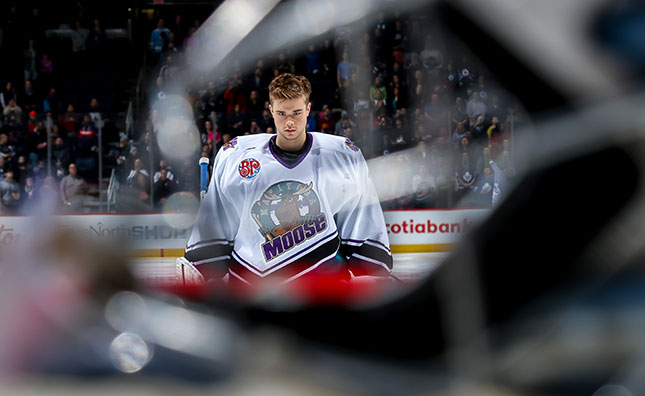 It's a common story for kids growing up.  The little brother (or sister) gets put in net because the older siblings need a goalie for their road hockey games or games in the basement.  However, Eric Comrie's story turned out a little different than most.
A second round pick of the Winnipeg Jets in 2013, Comrie was sent to guard the goal by his older brothers and never wanted to leave.  During that time, the Manitoba Moose goaltender found his life's passion.  It's a passion burning as strong as ever to this day.
GETTING STARTED
Eric Comrie was born in Edmonton in 1995 and by the 2000-01 season, both of his older brothers, Paul and Mike, had played games with the hometown Oilers.  Those were exciting times, and a great time for young Eric to be introduced to hockey.
It started with being a "shooter tutor" for his brothers, and quickly spilled over to his minor hockey team where the idea of everybody taking a turn in goal came to an abrupt end as Eric took his first turn and just kept on going.
He couldn't get enough puck-stopping and was inspired by the man who became hockey's winningest netminder.
"I really loved Marty Brodeur growing up. I mean it was a bit of an obsession almost. I used to cut my hair just like him, it was a bit creepy. But, I really liked him. It just stuck. I loved it. I love stopping pucks. I just loved it always."
NOT A STAR FROM THE START
Those early days in the Alberta capital were a ton of fun, but don't Eric wasn't necessarily a standout from day one.  He's quick to point out he gave up "something like twelve goals" in his second-ever game and played house hockey early on.
It was all about having fun and enjoying his time.  That approach stayed with him along the way.
"When you're younger it's just about enjoying it.  Of course I always wanted to win, even when I was younger, but still it's just about having fun."
CALIFORNIA
Just as Eric was becoming a die-hard hockey lover, his family moved to Southern California and he was concerned how the shift south would affect his emerging game, but any fears were soon put to rest.
"I honestly don't think I'd be where I am today without moving to California.  It was the best thing that could have happened to me by far.  I mean hockey down there is unbelievable.  I skated, I think, 360 days out of 365 days a year.  It was crazy," said the 21 year-old in a recent conversation while on the road with the Moose.  "The hockey there is intense. All the coaches there really want you to get better. I mean they're all very good coaches and the hockey level was unbelievable."
Just how good was the hockey in California?
Eric's LA Selects won two national championships, were runners-up at the prestigious Quebec Pee Wee Tournament, and claimed numerous other marquee event titles.
Several of his teammates continued on to bigger things in the sport including long-time friend and Moose teammate Chase De Leo, Toronto Marlies' forward Trevor Moore, and Tampa prospect Adam Erne.
CLIMBING THE LADDER
From those early days in Edmonton, to sunny SoCal, the Western Hockey League with the Tri-City Americans, and now tending twine for the Manitoba Moose, Comrie maintained his love of the game and youthful enthusiasm.  His passion for the sport is the driving force behind his impeccable work ethic and steady development as an elite prospect.
"I don't think of it as a job ever.  People say 'oh you're coming into pro hockey now it's your job'.  For me it's not my job.  I go out there and I enjoy it.  I have fun.  It's the most fun time of my day!"
Which brings the story full-circle, back to brothers Paul and Mike.
"I was very fortunate that I had those two brothers in the NHL.  I got to learn from them, to be around the NHL dressing room," said Eric with a true tone of appreciation.  "Just to be around that atmosphere – go into the locker room, talk to the guys, see what it's like. I mean, it gives your passion a whole other level.  It makes you really want it even more and more."
With his talent and drive, few would be surprised if, one day, Eric is able to have his very own spot in an NHL dressing room.
Photo Credit: Jonathan Kozub