Cormier provides veteran presence
By: Mitch Peacock | Published: September 7th 2016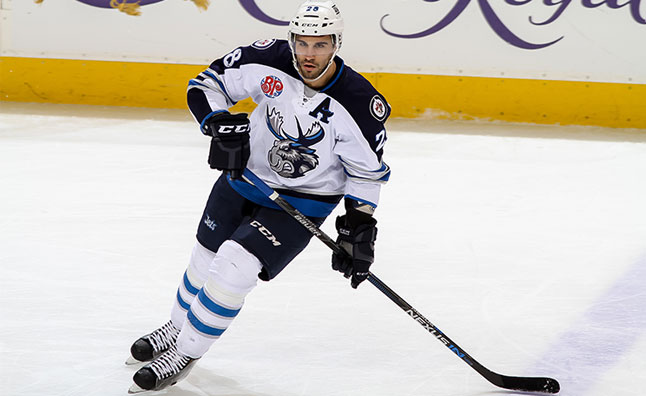 Patrice Cormier recently put pen-to-paper on a new contract that will see him back in uniform with the Manitoba Moose this season.
That means the product of Cap-Pele', NB will be extending a notable run with the same organization – well beyond his time in Manitoba.
How long a run? Well, Patrice has been part of the club since its Atlanta days.
Way back in February 2010, he was traded to the Thrashers as part of the swap that saw Ilya Kovalchuk join the New Jersey Devils.
With 52 NHL games to his credit in Winnipeg/Atlanta colours, and 275 more regular season contests in the American Hockey League, he's a natural fit for a maturing Moose team trying to build on last year's return to Manitoba.
DIFFERENT PHASE
It's hard to believe that a 26 year old could be considered an "older guy", but that's the nature of today's American Hockey League and Cormier understands what that means.
In our telephone conversation from his off-season home in Moncton, NB, Patrice talked about his excitement in bringing his experience to a youthful group with so much talent and skill.
"You got to take that responsibility as a leader and try and help the young guys as much as you can."
And he seems a perfect fit for that type of assignment.
Not only was he a member of the leadership group last season, but he's also worn the "C" with Rimouski of the QMJHL and with Canada's national junior team.
LOTS TO LOOK FORWARD TO
Fresh from getting married in Atlantic Canada this summer, Patrice and wife Tanya (and dog Bentley) make their way back to Winnipeg with plenty to look forward to.
On top of a bright future together, Patrice is coming of a career-high 65 game season that included a personal best equaling 17 assists and six power play goals.
Cormier also talked about being confident new Moose head coach Pascal Vincent would impress, a view based on his time dealing with Pascal in his previous role with the parent club.
"he helped a lot – a really good teacher," said the centre, adding. "The guys liked him a lot in the dressing room with the Jets."
MAN ON A MISSION
It doesn't take long in a conversation about the season ahead to see Cormier already has a clear idea of what he wants to see from the Moose – wins and lots of them.
Patrice says the challenge includes being better from the very start of the season noting the team was slow out of the gates last fall.
But, the face-off ace also recalls how the team grew as the season wore on pushing .500 over its final 31 games.
"As a young guy confidence is huge, once the guys got settled in and the team bonded a little bit more it started to roll pretty good. Hopefully we can build on that and start on the right foot and win hockey games."
Patrice and the Moose host the Bakersfield Condors in their home opener Tuesday, October 18 at 7pm – go to moosehockey.com for ticket information.