Finish builds confidence
By: Mitch Peacock | Published: August 4th 2016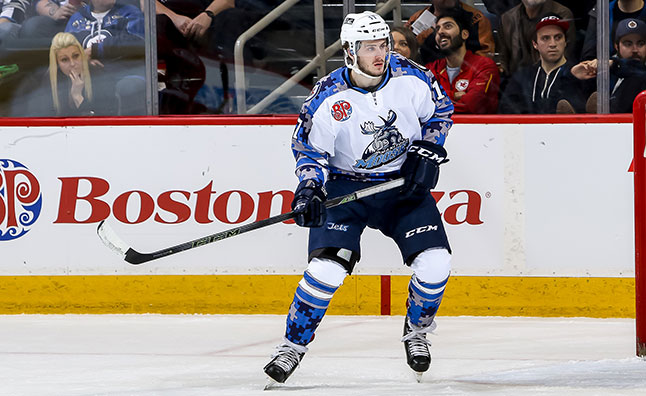 Jets' prospect Jimmy Lodge is enjoying this summer a lot more than he might have thanks to a positive finish to his first professional season.
But, don't think that finish came easily – it was a nice stretch of play built on hard-work, learning and opportunity.
TULSA TIME
Like many first-year pros, Lodge struggled to find his game early on – moving beyond billet life and facing experienced men instead of junior-aged players is an adjustment after all.
Ultimately, Lodge was assigned to the Tulsa Oilers (ECHL) in late-January and that turned out to be a platform for him to build upon.
After working with highly-respected Oilers' coach Jason Christie, and picking up eight points in 13 games, Lodge was brought back to the Moose and showed a new level of confidence.
READY FOR MORE
Despite that newfound confidence, Lodge was still looking for his first AHL goal 30 games into his first season.
But it was that 31st game when he broke through, and boy did he ever!
It was game 75 and the Moose were in San Antonio, TX. The team was dealing with injuries and call-ups when Lodge took advantage of regular ice time to notch his first pro goal – beating veteran keeper Reto Berra.
And, he wasn't done there.
Lodge would add two more for a hat trick! So, not only did he get his first, he got his first three, all on the same night!
"It's definitely a memory I'll have for the rest of my life," says Lodge. "To score a hat trick and have it come along with your first goal at the same time, that's big. And I think finishing off on that note, along with having a couple assists at the end, it definitely lets me know I can play in this league (AHL) and make the jump. It gives me some confidence going into next season."
CHANGE OF SCENERY
After spending the past few summers training in the Toronto-area, the Pennsylvania-native is working out closer to family in Philadelphia these days.
Lodge says he's in the gym five days-a-week and skating regularly too with the aim of adding weight, building strength and getting quicker.
It's only one season, but Lodge has taken a lot from it and is eager to put the lessons he learned to work this fall.
"I think it was real important," said Lodge of his transition year. "Definitely, making the jump from junior to the AHL is different – it's a pro game now and I can definitely see myself improving."
And that's good news for Lodge, and the Jets' organization, because players who persevere tend to reach their potential.