Hungry for more
By: Mitch Peacock | Published: August 18th 2016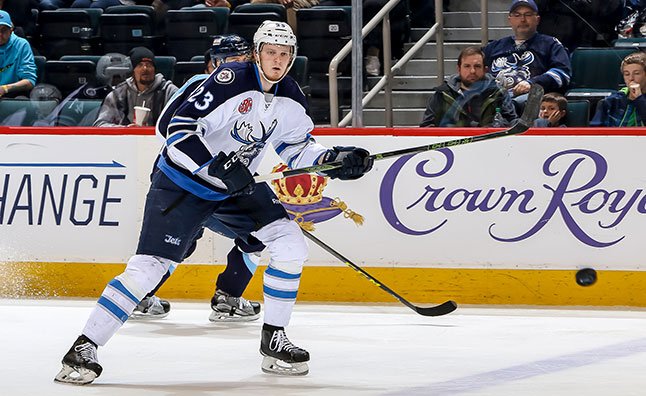 Jets' prospect Axel Blomqvist is back in his native Sweden spending time with family and working to build on his first year as a pro – 58 games between the Manitoba Moose (AHL) and the Tulsa Oilers (ECHL).
The former WHL player is determined to make an impact in year two, and recently he visited with me to catch up and share with moosehockey.com
MP: When you look back at this past season – I'm sure you've had a chance now to let it sink in a bit – what were the big messages you took from your first year as a pro?
AB: I honestly look at how I started the season and how I finished it. I think that was a big difference for me. You know, I think I got way better from my first game to my last game so that's really something I want to take with me coming into this next season. I want to be more confident and want a bigger role on the team. This past season there were a lot of ups and downs, but overall I'm was happy with my progress.
MP: It seemed like the whole experience with Tulsa (ECHL) was a real boost for you – gave you a springboard for the rest of the year. Are you able to look at anything in particular in your game that improved?
AB: I think my two-way game to be honest. Coming out of junior I was more of an offensive guy and coming into pro hockey you have to be able to play in all three zones and using my body more – finishing hits and playing more of a rough game. So, yeah my two-way game and my physical game for sure.
(Blomqvist had 10 points in 25 games over two stints with the Manitoba's ECHL affiliate – the Tulsa Oilers)
MP: I'm thinking about that first goal you scored (with the Moose), was it in Grand Rapids? Is that one of the special moments from your rookie season?
AB: For sure, you know scoring my first goal there was awesome. I had a couple chances before that, but couldn't really find the back of the net and then when it finally happened it was awesome! And then I would say also in San Antonio (second last game of the season). That game, Lodger (Jimmy Lodge) got a hat trick, and I had two assists. That was also one of those games you kinda remember.
MP: Can you compare this to maybe other times in your career where you're looking to move up levels – is it kind of a natural thing to take a step to learn a bit and then push forward?
AB: For sure, yeah. I look at my first season in the WHL (Lethbridge). I didn't get drafted when I wanted to and I look back it was kind of a learning season and the year after I was a point-per-game guy in the Dub. So, I'm not going to say I'll be a point-per-game player in the AHL, but obviously I want to be a better player next year – and I'm confident that I will be. I will definitely be looking for a bigger role and I'm going to work my hardest to deserve that.
Blomqvist finished the 2015-16 AHL season impressively with three points in his last three games to give him five points in 33 American League games.