Injury provides Baker motivation
By: Mitch Peacock | Published: October 6th 2016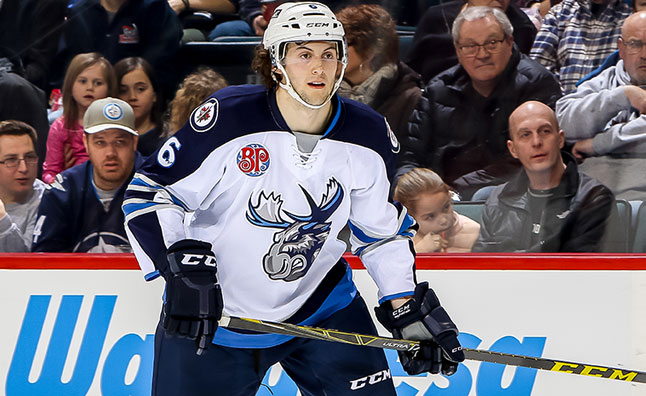 Last season, Jake Baker went through a lot for a player with just one year of pro hockey experience.  If the old saying "what doesn't kill you makes you stronger" is true, Baker definitely built up strength chasing his hockey dreams with the Manitoba Moose.
QUIRKY PATH TO MOOSE
After four years at Northern Michigan University, the Port Moody, British Columbia product turned pro in the spring of 2015.  He played seven games with the Quad City Mallards of the ECHL.
From there, last fall, the 6'5 defenceman attended camp with the Iowa Wild – AHL affiliate of the Minnesota Wild.  That tryout eventually led to his shot with the Manitoba Moose.  It was his play in two pre-season games for the Wild, against the Moose, that planted the seeds for his opportunity with the Jets' American League affiliate.
That said, it wasn't a direct path to Manitoba for Baker.  He returned to Quad City after his look from the Wild and played much of the season in the ECHL before the Moose came calling.
GOOD FIRST IMPRESSION
When Jake got the call to join Manitoba on a PTO in late February, he showed plenty of potential.  The big defender featured mobility and physicality to go along with an impressive skill set.
In nine games with the Moose, Baker put up a couple of points and spent 29 minutes in the penalty box.  He fit in nicely to the lineup before injury brought his season to an end.
UNLUCKY
It seemed like an ordinary hit during a home game against the Charlotte Checkers, but the collision sent Jake to the dressing room in pain.  The result was a torn labrum (shoulder injury), and Baker was soon under the care of Winnipeg surgeon Dr. Peter MacDonald.
Surgery was followed by a month in a sling.  Then there was plenty of work to gain range-of-motion, followed by strengthening.  It was a gruelling process, but one that fuelled Baker's drive.
"You don't really expect it, but when you're out it just makes you makes you realize how much you want to be back in the lineup – when you're watching the game and training you want to do anything you can to get back. It's almost like a motivator. Some people, it could set you back, but for me – in my case – I just wanted to work as hard as I could to get back."
LESSONS LEARNED
While Baker learned much about himself during his recovery from shoulder surgery, there were valuable lessons from his first year as a pro.  One of them stood out above the rest.
"The one main thing I noticed is just everybody's always just competing to be the best here.  It really makes you get better as an individual and as a team. So, the competitiveness and everything about pro is what makes it fun and nothing's in stone so you're always working to be better and you're always working to earn a spot.  You're giving it your all and living on the edge every day."
Baker signed a contract with the Moose this summer and participated in Jets' camp this fall.  He says the opportunity added to his hockey education.
"That was a very good learning experience for me. You know, there's unbelievable players up there.  It just shows, and you really realize, every one of those guys – they didn't just get a talent. They put in the work every day and you really see that. Just being at my first NHL camp was a really good experience for me."
It's a little more than a year since Jake Baker became a pro, but it's clear he gained a wealth of experience over that time and uses it to improve his game.  That's a great quality for a person with lofty goals on the ice and beyond.
Jake Baker returns to where his AHL journey began, wearing different colours, when the Moose face the Iowa Wild in pre-season games Saturday, October 8 and Sunday, October 9 in North Dakota.
It's amazing how much happens in a year.