It's all about the work
By: Mitch Peacock | Published: June 28th 2016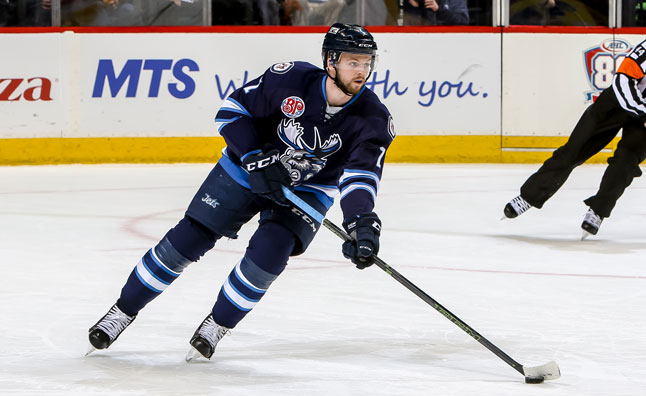 The 2016 NHL Draft has come and gone, and after that first rush of excitement there is a time of reflection, a time to put things in perspective.
And while the names called at the very top of the draft might soon be on the backs of big league jerseys, time has told us that beyond the few super elite, not many teenagers are ready to make a difference at the big league level just yet.
That's not a criticism, or a bad thing, more a reality backed by the numbers – numbers that show it takes time for even some of the finest talents on the planet to find their way to an everyday job in the NHL.
Jets' star Mark Scheifele played his first full season at age 20, impressive enough, but it took until his third pro season (at age 22) for him to really emerge as a front-line piece of the puzzle. Not a greybeard by any stretch of the imagination, but an indication there's learning and development en route to sticking around and making a difference.
On the blue line, all-star Dustin Byfuglien played more than 120 AHL games before cracking the Blackhawks lineup on a regular basis.
Scheifele and Byfuglien's stories are certainly stories of success, and just two of many examples of standout talents needing a little time to grow their games before making their mark on the world's biggest stage.
Jets' prospect Josh Morrissey is looking to follow in the footsteps of players like Scheifele and Byfuglien.
Moosehockey.com caught up with Morrissey – the Jets' 2013 first round pick – recently to see how he's doing now that he's got his first professional season under his belt.
LOOKING BACK
A quick look at the Moose stats and you'll see the defenceman with three goals, 19 assists, and 22 points in 57 games as a first-year pro.
Dig a little deeper and you'll notice he took 107 shots on goal – tied for the team lead among defencemen.
Get downright curious and you'll note he had a four-point game and picked up eight points in his last eight AHL games before a lower-body injury brought his season to an end.
Impressive, but that's only the offensive part of the story.
Ask those who watch for these things and they'll tell you "J-Mo" is playing a quicker game and an improved game in the defensive zone – key steps to a shot at the NHL.
Oh, and speaking of the NHL, the WHL-product made his Jet's debut this past season too – a solid showing against the Montreal Canadiens on March 5th.
LEARNING CURVE
Josh says things changed for the better for him after Christmas.
Why? He can't say for sure, but he knows he was a different player…no…make that more "himself."
"After that Christmas break I felt a lot more comfortable, I don't know what it was to be honest, but all of a sudden those first pro jitters weren't there and I just felt like I was ready to compete and play," Morrissey said during a break from signing autographs prior to the Jets' Draft Party at the MET. "I guess I just really believed I could play with anyone and compete with anyone. And although I played only one NHL game, I feel like my game's come a long way and I can do that hopefully at that level as well."
LEARNING TO BE PATIENT
Not shy to discuss the challenges and expectations that go with being a first-round pick Morrissey seems to have a maturity that will serve him well and a desire that will help him be his best.
Make no mistake he's got a real drive to be an NHL'er, but he's concentrating on what he can control – the work – to help manage the journey.
"I've always been that way. I always want to work and get better and improve my game whatever way I can," said Morrissey. "I guess I've just found comfort in that – comfort in enjoying the process to get there and the belief in myself that I can get there and be that guy. So, obviously I hope it's sooner than later but I've been working hard, and it's been a fun ride."
SPECIAL SUMMER
Fully recovered from the injury that ended his season, Morrissey is making the most of a special summer.
Though Hockey Canada commitments, and long runs in the Calder and Memorial Cup Playoffs, have made for great learning experiences in the past, they also made for short off-seasons. This year, for the first time since the start of his junior career he's got more than a few months to concentrate on training.
Now, he's relishing getting in extensive conditioning work and some early skating time too in his hometown of Calgary.
It's all about improvement so bigger and better things can follow in his second year as a pro.
The kind of things that seem within reach when combined with the right approach.
"For sure, you know, I've always been sort of a perfectionist which is a great trait to have but also can hurt you if you let it get to you. I've really tried to get better every day, whether it's now in the off-season in the gym or in summer skates or in working with my power skating instructor or during the season through video, practice. I know that it's not a sprint it's a marathon. I know that's kind of a cliché, but I think that's really true, and I'm just working my hardest to try and get there as soon as possible because I want to. I really feel like my game's at a place that it hasn't been before and I feel excited and really confident because of that."
There's no way to forecast if, or when, a prospect will break through but you can't help but think Josh Morrissey is giving himself every chance to add to his NHL games played – and to join Scheifele and Byfuglien on the big team someday.