Hockey and Perogies Make Perfect Manitoba Combo
By: Manitoba Moose Staff | Published: October 26th 2023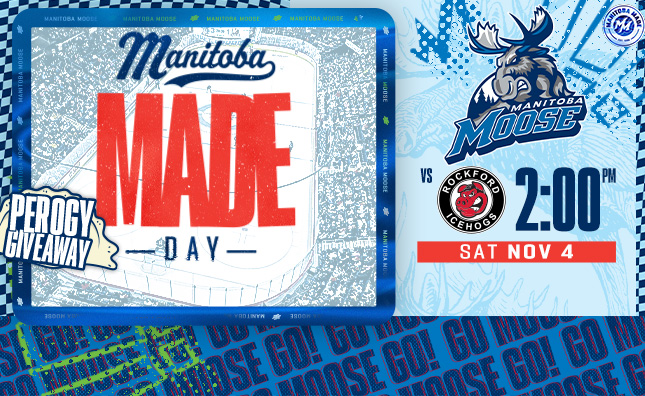 Perogies are officially back on the menu! Back by popular demand, the Moose are thrilled to host their third annual Manitoba Made Day on Saturday, November 4th against the Rockford IceHogs at 2 p.m. The Moose have been a proud part of this province for over 22 seasons and are woven into the very fabric of the Winnipeg community. Likewise, our fans display the truest form of what it means to be Manitobans –  they're loyal, caring, and not afraid to leave their homes on a chilly winter day to watch some hockey.
This game is an opportunity for the Moose to celebrate the best things about the province we call home. In that spirit, the perogie giveaway returns for a third straight year! Make sure you grab your bag on the way out. The Moose are aiming to make the month of November full of memorable moments and giveaways.
In addition to Manitoba Made Day, don't forget about the upcoming Team Poster Giveaway on Sunday, November 5th at 2 p.m. Get to the gates early as the first 3000 fans will be able to secure themselves a poster of their favourite Moose players. There might even be some future Winnipeg Jets striking a pose!
Tickets to all upcoming Moose home games are available at MooseHockey.com/TICKETS.