Moose making MTS Iceplex home
By: Mitch Peacock | Published: September 1st 2016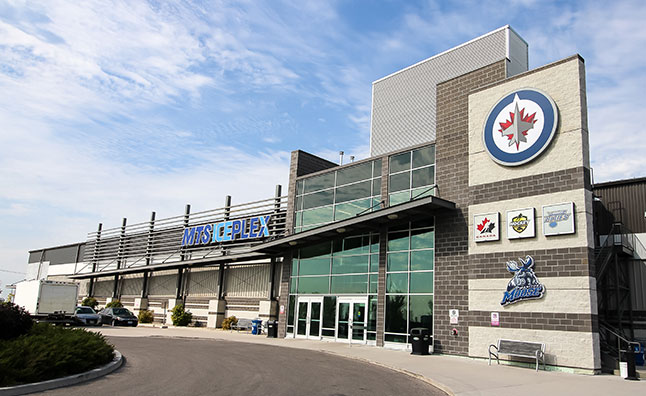 The Moose returned to Winnipeg last season, but the move wasn't exactly complete.
What I mean by that is, the team – which holds most of its practices and game day skates at MTS Iceplex – split its time in the city between its downtown home and a temporary dressing room at the west end practice facility.
So what you say? Well, how about setting up shop for home practices and day of game tune ups at the Iceplex and then packing and moving everything – as in 35 hockey bags, plus additional gear and tools – downtown for that night's game?
Not an easy chore.
Plus – depending on the schedule – how about possibly turning around and going back out to the practice rink after the game?
That's a gruelling workload for the team's equipment staff, medical staff, and its players.
Oh, and I did say temporary dressing room didn't I?
Yeah, the Moose were in the home of the Winnipeg Blues (MJHL) and couldn't put down permanent roots (though they did nicely upgrade things for the Blues to enjoy moving forward).
MTS ICEPLEX EXPANSION
Fortunately for the Moose it was a case of short-term pain for long-term gain.
That's because club will soon be able to set up shop in a brand new expanded MTS Iceplex.
About $8 million dollars is being invested in the practice facility to create a world class practice home for the Moose and the Jets.
Graham "Spike" Watt is the Head Equipment Manager for the Moose and can't hide his enthusiasm for the upgraded spot.
Watt says the new-look Iceplex will have everything from a heated garage for unloading (to make unpacking gear manageable on those cold winter days and nights), to an expanded dressing room and top-notch spaces for equipment staff, medical staff and coaches.
HOME BASE AND ADDED CONVENIENCE
Two major advantages are obvious with the changes to the practice facility.
The first is simply having an elite venue to work out of – critical to supporting pro players as they work to reach the best league in the world.
The second major plus is convenience for players and staff alike because now instead of carting all that equipment back and forth, the club will be able to leave a set of equipment for each player at Iceplex.
That means, only skates and a few basics will have to be packed-up and shuttled back and forth to downtown.
We're talking much less wear-and-tear on staff and a more stable atmosphere for the players.
Watt says the hope is to have the new set-up ready to go by early September.
SUMMER STORY
By the way, ever wonder what a pro hockey player takes home at the end of a season to help get ready for the next season?
Easy, whatever they need to prepare – as in a full set of gear, sticks, and workout clothing.
Watt and Assistant Equipment Manager Robert Cook ensure every departing player is fully stocked with the necessities when the head home for the off-season, and the reasoning is simple.
"That's what our job is, to make sure they're taken care of and all they worry about is training and what's happening on the ice – we try to minimize the stresses for them and let them do their job," said Watt.
No doubt the players appreciate being able to spend the time between seasons working on their games and not fretting about the tools they need to get to work.