Share the Warmth Campaign Aims to Support Those in Need
By: Anthony Fusco | Published: October 18th 2023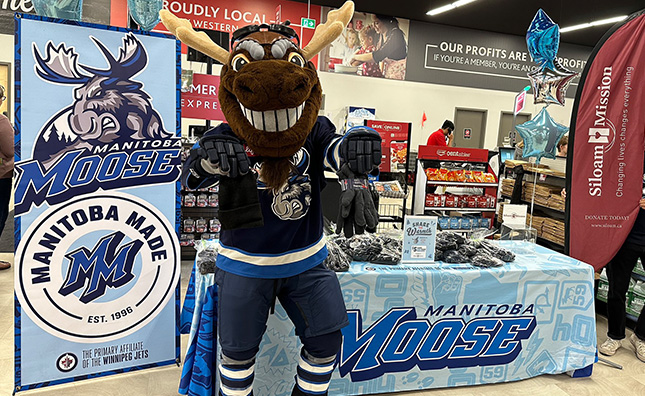 The annual Share the Warmth campaign is an opportunity for the Moose and Red River Co-op to come together with Siloam Mission and serve the Winnipeg community. This season, the Moose Share the Warmth Game takes place Saturday, Oct. 21 at 6 p.m. against the Iowa Wild.
The game represents a chance for the Moose and their fans to support Siloam Mission's efforts supporting vulnerable community members. It's also a wonderful way of bringing people from all walks of life together in the name of a worthy cause. The goal of the campaign this season is focused on collecting donations of toques and gloves as the cold weather begins to set in.
"The continued partnership with the Manitoba Moose is invaluable to Siloam Mission," noted Sydney Solis, Donor Relations and Events Coordinator with Siloam Mission. "Not only does it help us in providing immediate warmth and aid to those in need for the coming winter, but it also raises awareness about the challenges faced by our city's most vulnerable population. The Moose, being such a prominent figure in the community, helps us advocate for those that need to be seen and heard. They allow us to amplify our message, and efforts to a broader audience, fostering a stronger sense of unity and compassion in Winnipeg."
Fans are encouraged to bring new and gently used toques and gloves to Saturday's game for donation to Siloam Mission. Those attending the game will also be able to purchase donation packages on the main concourse for $5. Anyone donating items at the game will be entered into a draw for the chance to win a team-signed Moose jersey.
"At the game, we truly appreciate and would be grateful for any support fans can provide," said Solis. "While any donations of warmth-related items like winter clothing are always beneficial, we also encourage fans to engage with us, learn more about our mission and understand the challenges many face on a daily basis. Whether it's through monetary contributions, volunteering, or just spreading the word about our efforts, every bit helps."
Siloam Mission connects the community in order to alleviate hardships and provide opportunities for change for those affected by poverty and homelessness. During the 2022 campaign, the Moose and Red River Co-op collected over 2,725 pounds of items, which had a fair market value of $22,951.60, thanks to the incredible generosity and support of Manitobans.
Tickets for the Share the Warmth game, presented by Red River Co-op, in support of Siloam Mission are available at MooseHockey.com/TICKETS.
Or check out the new Ticket and Toque offer. The special combo includes a ticket to the game, a toque for yourself AND a toque donated to Siloam Mission. Click here to purchase.